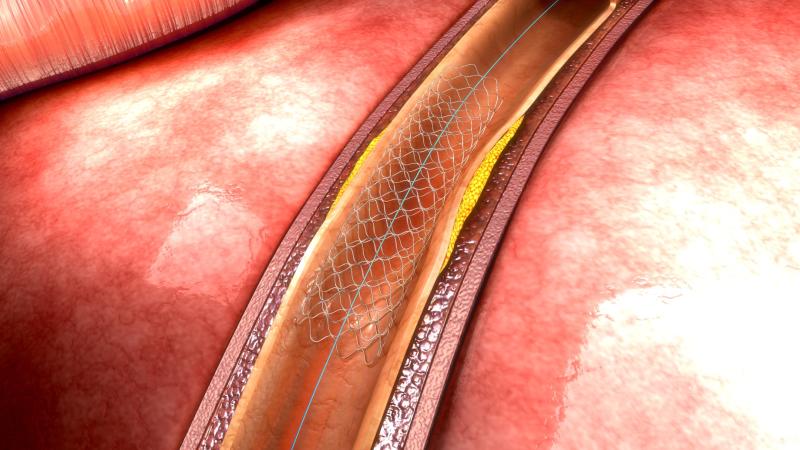 The MiStent device is made of cobalt-chromium, with struts of up to 64 µm thick. It is coated with a completely absorbable polymer that contains a microcrystalline form of sirolimus that embeds directly into the vessel wall. The drug is eluted continuously for up to 9 months.
This was a multicenter noninferiority study that randomized patients in a 1:1 ratio to receive Xience or MiStent devices. It enrolled a total 1398 patients; about 59% of them were admitted while presenting acute coronary syndrome.
At 1 year, the primary endpoint was present in 6.5% of patients in the Xience groups vs. 5.8% of patients in the MiStent group, thus achieving noninferiority (p < 0.001). There were no differences as regards cardiac death (Xience 1.6% vs. MiStent 2.0%; p = 0.552), target-vessel infarction (1.9% vs. 2.2%; p = 0.716), clinically justified target-vessel revascularization (3.8% vs. 2.6%; p = 0.222) or definite thrombosis (0.7% vs. 0.4%; p = 0.480).
Conclusion
In a 12-month follow-up, the MiStent device with early polymer absorption and sirolimus sustained release was noninferior to everolimus-eluting stent with permanent polymer Xience.
Original title: DESSOLVE III: A Randomised Comparison of Xience vs. MiStent, a Novel DES that Embeds Sirolimus Microcrystals in the Vessel Wall.
Presenter: Robbert J. de Winter.
---
We are interested in your opinion. Please, leave your comments, thoughts, questions, etc., below. They will be most welcome.