Ticagrelor seems as safe as clopidogrel in patients undergoing ST elevation MI treated with fibrinolytics, at least in terms of TIMI major bleeding at 30 days.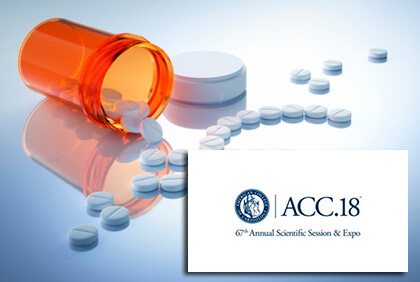 Longer follow up will help determine whether there are differences in efficacy or safety issues, as stated by the presenter Otavio Berwanger.
This study was presented at ACC 2018 scientific sessions and simultaneously published by JAMA Cardiol.
Administering thrombolytics and transferring patients to a well-equipped center right away is far from simple in many parts of the world. This is why the studies CLARITY and COMMIT had already tested the safety of aspirin and clopidogrel with thrombolytics, but little was known about the combination with the new antiaggregants until this work was presented. In fact, the PLATO study (the largest study on ticagrelor) had especially excluded patients on thrombolytics.
---
Read also: Dual Antiplatelet Therapy: Less Is More for Elderly Patients.
---
The TREAT study was carried out in 10 countries and included 3799 patients younger than 75 that had received thrombolytics. Patients were randomized within 24 hrs. of index event to a 180 mg load of ticagrelor followed by 90 mg c/12 hrs. vs. a 300 mg load of clopidogrel followed by 75 mg/day.
Primary end point was major TIMI bleeding, which resulted 0.7% in both groups. Neither were there differences when using other definitions of major bleeding. Minor bleeding rate resulted higher with ticagrelor (at least according to PLATO criteria) and there were no differences in terms of efficacy at 30 days.
---
Read also: New Study Shows Ticagrelor + Aspirin Reduce Events Rate.
---
They are planning to follow up patients at one year to see what happens to those that finally received PCI (56% of the study population).
Original title: Ticagrelor vs clopidogrel after fibrinolytic therapy in patients with ST-elevation myocardial infarction: a randomized clinical trial.
Reference: Otavio Berwanger et al. JAMA Cardiol. 2018; Epub ahead of print.
---
We are interested in your opinion. Please, leave your comments, thoughts, questions, etc., below. They will be most welcome.