This study aimed to assess the outcome of Culotte stenting with newer-generation drug-eluting stents (DES) in Medina 1, 1, 1 bifurcation lesions. The 2nd-generation device used was permanent-polymer everolimus-eluting stent Xience, a device for which there is comparatively plenty of evidence available. Alternatively, the 3rd-generation stent used was thin-strut abluminal bioresorbable-polymer everolimus-eluting stent SYNERGY.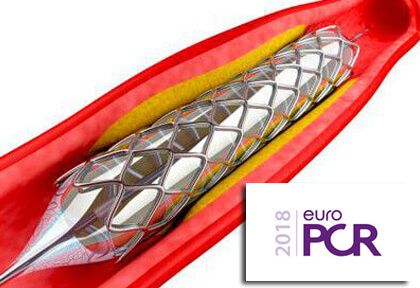 Patients with Medina 1, 1, 1 bifurcation lesions eligible for Culotte stenting, 170 total patients, were randomized 1:1 to Xience or Synergy stents.
The rate of combined events (death, acute myocardial infarction, stroke, target-vessel failure, stent thrombosis, or binary restenosis) occurred in 19% of the Xience group vs. 16% of patients in the Synergy group, which means that the latter reached the non-inferiority criterion.
Original title: Culotte Stenting for Coronary Bifurcation Lesions with 2nd and 3rd-Generation Everolimus-Eluting Stents: The CELTIC Bifurcation Study.
Presenter: David P. Foley.
---
We are interested in your opinion. Please, leave your comments, thoughts, questions, etc., below. They will be most welcome.