The LEADERS FREE study showed that a biolimus A9-coated polymer-free stent was superior to a conventional stent in terms of safety and efficacy in patients who received dual antiplatelet therapy for only a month due to their high risk for bleeding.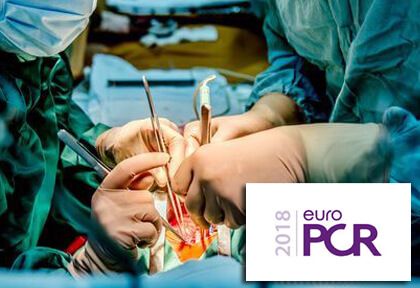 In this substudy, researchers analyzed 667 patients enrolled in the original LEADERS FREE trial who met certain requirements for complex angioplasty: total stent length >60 mm, 3-vessel lesions, 3 or more implanted stents, bifurcation lesions requiring 2 stents, total occlusions, restenosis, or lesions in saphenous vein grafts. All these high-risk patients were randomized to biolimus A9-coated polymer-free stent or conventional stent. The risk of bleeding for these patients who had undergone complex angioplasty was even higher than the mean risk for the whole study population.
---
Read also: EuroPCR 2018 | SPYRAL HTN-ON MED: Renal Denervation Comes Back to Life.
---
The biolimus-eluting stent showed benefit both in terms of safety (16.2% vs. 21.7%; hazard ratio [HR]: 0.70 [0.49-0.99]; p < 0.05) and efficacy (10.8% vs. 18.1%; HR: 0.54 [0.35-0.83]; p < 0.005). However, for the 1746 patients who had undergone complex angioplasty, the relative difference in efficacy was even higher than for the general population (5.3% vs. 9.9%; HR: 0.52 [0.36-0.75]; p < 0.001), while safety was similar to that shown by conventional stents (11.1% vs. 12.6%).
Original title: LEADERS FREE: Complex PCI for Patients at High Bleeding Risk – Two Year Outcome of a Substudy.
Presenter: Philip Urban.
---
We are interested in your opinion. Please, leave your comments, thoughts, questions, etc., below. They will be most welcome.