The new ProEducar Educational Newsletter is out for all fellows, interventional trainees, and specialists in hemodynamics seeking to be up to date in their professional practice.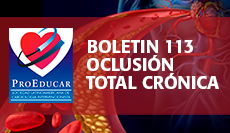 This is a special issue on chronic total occlusion (CTO), one of the main current challenges for interventional cardiologists. This comprehensive, extensive work directed by Dr. Gustavo Pedernera includes review articles, relevant clinical cases, interviews to experts, and step-by-step techniques developed by world-renowned Latin American interventional cardiologists.
The newsletter encompasses from revascularization indications to complex revascularization techniques.
Dr. Mario Araya and Dr. Christian Backhouse Q. summarize revascularization indications, and Dr. Marcelo Abud comments on one of the latest articles on current evidence and the benefits of CTO PCI.
---
Read also | ProEducar's Newsletter 112: Bifurcations.
---
The technical focus includes the implementation of a hybrid algorithm assessment, by Dr. Antonio Carlos Botelho and Dr. Alexandre Schaan de Quadros, antegrade approach with wire escalation, by Dr. Carlos Uribe and Dr. Mauricio Zuñiga, dissection and re-entry, by Dr. Ricardo Santiago, and retrograde approach, by Dr. João Tinoco de Paula. These techniques are illustrated through a very challenging clinical case featuring an excellent resolution, by Dr. Andrés Navarro.
Then, Dr. De La Torre summarizes occasional complications and their management.
Finally, there is an interview to Dr. Lucio Padilla on pivotal points for the emergence of a CTO revascularization program and future perspectives in Latin America.
---
Read also | ProEducar's Newsletter 111: Unresolved Issues in TAVI.
---
The ProEducar Newsletter is the result of joint efforts driven by SOLACI and fostered by many Latin American interventional cardiologists who contribute to building a permanent training program for all professionals who want to stay updated and perfect their knowledge and skills in the field of interventional cardiology.
Discover Newsletter #113HERE
---
We are interested in your opinion. Please, leave your comments, thoughts, questions, etc., below. They will be most welcome.