Courtesy of the SBHCI.

This is the first randomized study comparing a durable-polymer drug-eluting stent (zotarolimus-eluting stent Onyx) and a polymer-free drug-eluting stent (biolimus-A9-coated stent BioFreedom), with only one month of dual antiplatelet therapy in patients at high risk for bleeding.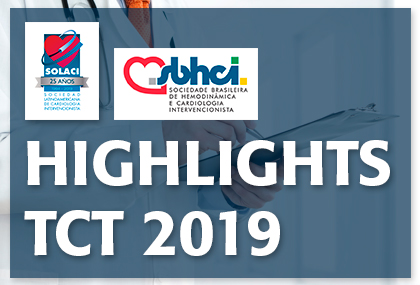 Onyx ONE was a study conducted at 84 sites that randomized 1:1 2000 total patients at high risk for bleeding. The endpoints were cardiovascular death, acute myocardial infarction, and definite or probable stent thrombosis after a 1-year follow-up.

The secondary endpoints included target-lesion restenosis, bleeding according to the BARC classification, and the separate components of the primary endpoint.

---
Read also: TCT 2019 | TWILIGHT: A Randomized Trial of Ticagrelor Monotherapy vs. Ticagrelor-Plus-Aspirin Beginning at 3 Months in High-Risk Patients Undergoing PCI.
---
The primary endpoint of cardiovascular death, infarction, and stent thrombosis combined at one year was 17.1% for Onyx and 16.9% for BioFreedom (p for noninferiority 0.01). The secondary endpoints and the rate for bleeding were similar for both devices.

Conclusion
Around 40% of patients who undergo angioplasty are at high risk for bleeding, and consensuses recommend 3 to 6 months of dual antiplatelet therapy for most of them, and only 1 month in very select cases. This work further supports one month of dual antiplatelet therapy and adds another device to the list (this time, one with durable polymer), a device that seems to be safe with such a short duration for dual antiplatelet therapy.

Courtesy of SBHCI.
Link to the SBHCI publication SBHCI HERE
Original Title: Onyx ONE: A Randomized Trial of a Durable-Polymer Drug-Eluting Stent vs. a Polymer-Free Drug-Coated Stent in Patients at High Risk of Bleeding Treated With 1-Month DAPT.
Author of the Original Article: Stephan Windecker.
---
---
We are interested in your opinion. Please, leave your comments, thoughts, questions, etc., below. They will be most welcome.