The aim of revascularization, whether through angioplasty or surgery, is to restore adequate flow to the myocardium; that much is obvious. However, after millions of "successful" procedures with the best technology applied to drug-eluting stents and optimal medical treatment, we still have a high ratio of patients who experience new events.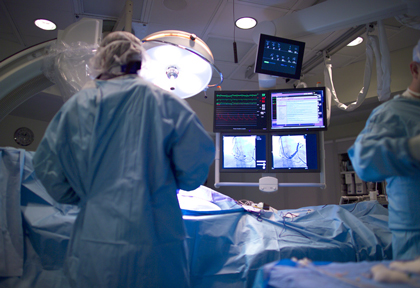 Could an optimal angiographical result with a suboptimal functional result explain at least some of these events?
The limitations of angiography have been documented not only in relation to intermediate lesions (50% to 70%), but also in relation to clearly severe lesions (70% to 90%). Fractional flow reserve (FFR) has been proven as a cost-effective method to guide revascularization, and instantaneous wave-free ratio (iFR) has been proven as a non-inferior and more practical method compared with FFR. All of this has been very useful for the assessment of lesions before revascularization, but their assessment after angioplasty has been systematically absent in guidelines.
FFR after angioplasty has proven, in both observational cohorts and post hoc analyses of randomized trials, capable of predicting future events with both dichotomous and continuous values.
---
Read also: Should Post-PCI Biomarkers Elevation Be of Concern?
---
Simply put, "the higher the better" for both FFR and iFR after angioplasty.
Attempting to reduce subjectivity in residual ischemia through FFR or iFR after angioplasty while trying optimize revascularization might improve outcomes in the future.
However, there are several barriers that must be overcome. First, there is the lack of randomized evidence; then, there are the costs, procedural times, adverse events caused by adenosine, etc.
The need for practical solutions has led to the creation of several non-hyperemic indexes; among them, iFR is the one with more evidence.
---
Read also: Infective Endocarditis After TAVI.
---
Now, we have algorithms based on 3D angiographic reconstruction, such as angio FFR or quantitative flow ratio (QFR), which may turn out to be even more practical.
A recent work published in JACC Cardiovascular Interventions assessed the relation between QFR after angioplasty and events at 2 years in patients in the SYNTAX II trial. In that work, Dr. Kogame and colleagues managed to prove an independent association between QFR after angioplasty and events at 2 years in a population for whom treatment strategy was determined through FFR/iFR and results were controlled through intravascular ultrasound (IVUS).
The difference was driven by higher target-vessel revascularization in patients with lower QFR, without differences as regards death or infarction.
Sadly, outcomes were not confirmed through FFR/iFR after angioplasty, thus missing a great chance to validate QFR in this setting.
---
Read also: Venous Pulmonary Waveforms in MitraClip Have Prognostic Value.
---
The next years will tell us whether QFR shall be a part of the angioplasty algorithm in daily clinical practice. That will require a fast, practical, real-time, standardized method; otherwise, it will be just another nice theory confined to the realm of research.
Original Title: Toward a "More Perfect" Interventional Algorithm Post-Intervention Functional Assessment Using Quantitative Flow Ratio.
Reference: Abdul Hakeem et al. JACC Cardiovasc Interv. 2019 Oct 28;12(20):2076-2078.
---
We are interested in your opinion. Please, leave your comments, thoughts, questions, etc., below. They will be most welcome.