It is with great pleasure that SOLACI announces an agreement with the Journal of Structural Heart Disease. From now on, all readers, users and members of SOLACI will be able to access the contents of this prestigious publication from our website.
Click on the section "Publications"> "Other Magazines" of our website, and there you can access the JSHD, as well as other important international publications.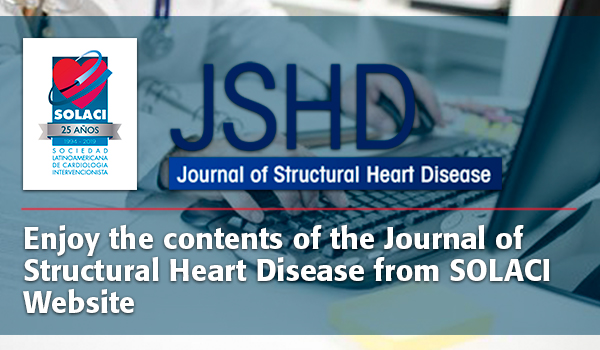 We share below the words of Dr. Ziyad M. Hijazi, editor in chief of JSHD, and Dr. Oscar Méndiz, co-editor in chief of said publication and former president of SOLACI:
---
"Dear SOLACI members,
We are pleased to announce the agreement signed between SOLACI and the Journal of Structural Heart Disease. As part of the agreement, a link will be included for direct access to the contents of the Journal from SOLACI website.
JSHD is an online publication whose Editor-in-Chief is Dr. Ziyad M. Hijazi, PICS Director, former President of SCAI and long-time friend and collaborator of SOLACI.
The co-editor-in-chief is Dr. Oscar Mendiz, former president of SOLACI.
Through this agreement, access to the contents of the journal is facilitated between the members of SOLACI and hopefully increases the possibility of publications in the said journal in LATAM.
This agreement has been possible thanks to the efforts of the SOLACI website Editors led by Dr. José Alvarez and the President of SOLACI Dr. José Armando Mangione.
The scope of the Journal will include all adults with structural and congenital heart diseases. It is anticipated that this journal will cover imaging related to interventional therapies in structural and congenital heart disease. Imaging has become one of the most important aspects in this discipline. In addition to imaging, of course, the main focus will be on the treatment aspects of all congenital and structural heart disease in the adult patient. This certainly will include the aortic valve, the aortic arch, the mitral valve, the left atrial appendage, the atrial septum (ASDs/PFOs), the tricuspid valve, the ventricular septum (VSD), the right ventricle outflow tract, the pulmonic valve and the branch pulmonary arteries and any miscellaneous topics not covered under these subheadings. Although the focus will be on "catheter therapies," the journal will also cover basic science articles, natural history and surgical management.
Our main objective of collaborating with SOLACI is to stimulate readership from LATAM to send papers and also to increase the exchange with colleagues from other regions and different specialties.
We hope you can visit the journal website, www.structuralheartdisease.org".
Ziyad M. Hijazi, MD, MPH, FACC, MSCAI, FAHA
Professor of Pediatrics & Medicine.
Weill Cornell Medicine
Executive Chair, Medicine
Director, Sidra Heart Center
Medical director, International Affairs Office
Editor-In-Chief, Journal of Structural Heart Disease
Honorary Professor, University of Jordan
Oscar A. Mendiz
Director Cardiology & Cardiovascular Surgery Institute (ICyCC)
Chief Interventional Cardiology Department
Favaloro Foundation University Hospital.
---
We are interested in your opinion. Please, leave your comments, thoughts, questions, etc., below. They will be most welcome.
(Visited 1 times, 1 visits today)