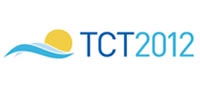 TCT 2012.
You will find here the best presentations and highlights of the Late Breaking Clinical Trials session during the TCT 2012
ISAR-LEFT MAIN 2: Everolimus-eluting stents versus Zotarolimus eluting stents in the treatment of the unprotected left coronary trunk.
Summary: Second-generation drug-eluting stents have shown better results than their predecessors. In this study we compare two second-generation drug stents in patients with unprotected left ...
POST trial: Post-conditioning effect in myocardial reperfusion with primary angioplasty.
Ischemic postconditioning obtained through reversible ischemia and reproduced during reperfusion after a prolonged ischemic injury has shown comparable effects to ischemic preconditioning in ...
XIMA: Randomized prospective study comparing everolimus eluting stents versus conventional stent implantation in octogenarians.
Background: Octogenarian patients represent an increasingly growing population. In addition, this age group has a higher proportion of co-morbidities with more extensive and complex coronary ...
ISAR-DESIRE 3: A paclitaxel eluting balloon versus Taxus in the treatment of eluting stent restenosis.
Fundamentals. Background: Although we've had more than a decade of experience with implanting drug-eluting stents, (DES), the best treatment for restenosis on these devices remains unknown. The ...
STEMI RADIAL A prospective, randomized trial which compares radial versus femoral access in patients with ST- segment elevation acute myocardial infarction.
Fundamentals: Previous studies have shown the benefits of a transradial approach in the context of coronary syndromes with ST-segment elevation. The aim of this study was to evaluate these benefits ...