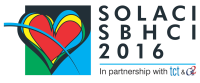 SOLACI - SBHCI '16
June 8 to 10 - Barra da Tijuca, Rio de Janeiro.
If you cannot view the articles, click here.
June 8, 2016
Rio de Janeiro – June 8, 2016. SOLACI-SBHCI 2016, the largest meeting on Interventional Cardiology in Latin America started with more than 1500 attendees. After the opening, by ...
June 9, 2016
Rio de Janeiro, June 9, 2016. Another great day at Solaci/SBHCI 2016. Early this morning, the TCT/GI2@SOLACI session –Percutaneous Coronary Intervention– was conducted at Cristo ...
June 10, 2016
Rio de Janeiro, June 10, 2016. Finally, a beautiful sunny day at the Wonderful City; despite this was the last day of Congress, activities went full steam ahead. In the morning, in the main ...
Course for Interventionists in Training 2016
This was a ProEducar iniciative that was a Pre-Congress activity and took place on June 7th of 2016. [nggallery id="31" ...
FFR, IVUS and OCT in Chronic Coronary Syndromes
Lecture given by Dr. Mario Araya (Chile) on FFR, IVUS and CTO in acute coronary syndromes at SOLACI-SBHCI'16, Rio de Janeiro, Brazil. Recorded by TV Med - June 8, ...
Get to know the winners of oral free subjects
You can check out who the winners were HERE ...
Discover which were the best e-posters
FIRST PLACE 114 THE IMPACT OF POST-PROCEDURAL ASYMMETRY, EXPANSION AND ECCENTRICITY OF BIORESORBABLE EVEROLIMUS-ELUTING SCAFFOLD AND METALLIC EVEROLIMUS-ELUTING STENT ON CLINICAL ...
Now, you can download your certificate
Log into the system and get your certificate HERE ...