Courtesy of Dr. Carlos Fava.
Mitral regurgitation accounts for around 25% of valvular diseases and is a strong mortality predictor in heart disease.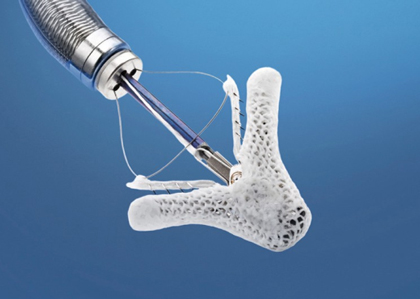 One of the challenges of this disease is that patients respond favorably to medical treatment for a long time, which makes hard to establish the right time to perform an intervention without increasing risk and compromising survival.
Trained operators typically prefer surgical repair. However, edge-to-edge valve repair with MitraClip is a valid alternative for patients at high surgical risk.
This study looked at 568 patients receiving MitraClip, 173 undergoing surgery, and 295 undergoing medical treatment.
---
Read also: Endovascular Therapy in Stroke: Much Evidence and Few Trained Operators.
---
Those treated with MitraClip were older, compared against the two other groups, and had higher rates of atrial fibrillation, prior MI, myocardial revascularization surgery, PCI, definite pacemaker implantation, STS score and kidney failure (eGFR <45 ml/min). There were no differences between patients undergoing surgery and medical treatment.
Survival for the MitraClip group at 1, 3 and 5 years was 83.8%, 61.5% and 39.8% respectively; for surgery, 87.9%, 76.3% and 66%; and for medical treatment 77.3%, 55.6% and 40.5%. Survival was superior with surgery and MitraClip vs. medical treatment, but there were no differences between surgery and the percutaneous strategy.
---
Read also: New Ultra-Thin-Strut DES: Do They Outperform Second-Generation DES?
---
Propensity Score matching was done to homogenize the sample, which resulted in higher mortality with the conservative treatment vs. the invasive strategies. However, there were no differences between invasive strategies.
Conclusion
This analysis suggests lower mortality with MitraClip in symptomatic high-risk patients with severe mitral regurgitation, compared against the conservative strategy.
Comment
This analysis of 'real world' patients shows the MitraClip presents good results with similar mortality compated against surgery, despite MitraClip patients had more comorbidities than those undergoing surgery and medical treatment. MitraClip patients presented superior outcomes compared against medical treatment, and similar outcomes compared to surgery, with no negative impact.
We should resort to edge-to-edge more often, seeing as more and more studies are proving its benefits.
Courtesy of Dr. Carlos Fava.
Original title: Survival After Mitraclip Treatment Compared to Surgical and Conservative Treatment for High-Surgical-Risk Patients with Mitral Regurgitation.
Reference: Friso Kortlandt, et al. Circ Cardiovas Interv 2018;11:e005985.DOI10.1161
---
We are interested in your opinion. Please, leave your comments, thoughts, questions, etc., below. They will be most welcome.