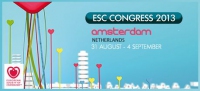 ESC 2013 .
Find complete coverage day by day of the last edition of the ESC 2013- September 1 to 3 from Amsterdam, Netherlands
PURE: Cardiovascular disease contrast between developed and undeveloped countries.
80% of the global burden of cardiovascular disease is located in countries with low or middle incomes. The aim of this study was to demonstrate the contrast in risk factors for cardiovascular ...
ATOMIC: Omecamtiv Mecarbil does not relieve dyspnea in patients with heart failure
This is a phase 2 randomized, double-blind controlled study to test the effect of omecamtiv mecarbil on progressive doses in patients with dyspnoea and ventricular dysfunction who were admitted for ...
PRAMI: Treating other lesions in addition to the culprit of an acute infarction reduces events.
In the context of an ST-segment elevation myocardial infarction, primary angioplasty to treat the culprit lesion improves the prognosis. The role of angioplasty in unrelated arteries is not well ...