Up to now, there had been no randomized controlled trial assessing oral anticoagulation alone vs. oral anticoagulation plus antiplatelet therapy in patients with atrial fibrillation 1 year after stenting in a setting of stable coronary disease. Such was the vacuum that this work, presented at TCT 2018 and published simultaneously in Circulation, attempted to fill.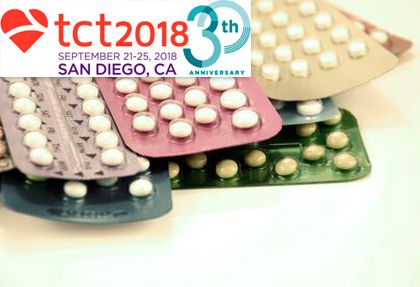 This trial intended to include 2000 patients, but enrollment was prematurely interrupted after enrolling 696 patients in 38 months.
Anticoagulation was achieved with warfarin in 75.2% of patients and new direct anticoagulants in the rest.
With a mean follow-up of 2.5 years, the primary endpoint (a composite of death, infarction, stroke, or systemic embolism) occurred in 15.7% of patients in the anticoagulation alone group vs. 13.6% in the combined anticoagulation plus antiplatelet therapy group (p = 0.2 for non-inferiority and p = 0.45 for superiority).
---
Read also: TCT 2018 | MAIN COMPARE: Angioplasty vs. Surgery for Left Main Coronary Artery Disease at 10 Years.
---
The secondary endpoint (a composite of the primary endpoint plus major bleeding) occurred in 19.5% and 19.4% of patients, respectively.
Difficulties in patient enrollment led to failure to reach the target 2000 patients, a number that would have warranted enough power to derive conclusions. As it is, the study only generates (admittedly, extremely interesting) hypotheses.
Original title: An Open-Label Randomized Trial Comparing Oral Anticoagulation with and without Single Antiplatelet Therapy in Patients with Atrial Fibrillation and Stable Coronary Artery Disease Beyond One Year After Coronary Stent Implantation: The OAC-ALONE Study.
Presenter: Yukiko Nakano.
---
We are interested in your opinion. Please, leave your comments, thoughts, questions, etc., below. They will be most welcome.