Patent foramen ovale closure is the standard treatment for cryptogenic stroke patients. However, there are is little information on its long-term evolution.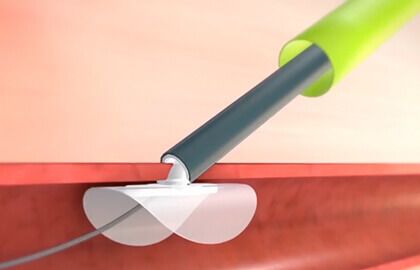 The aim of this study was to determine clinical outcomes (death, ischemic or bleeding events) after foramen ovale closure over a 10-year evolution.
The study included 201 consecutive patients (mean age 47 ± 12, 51% women) receiving transcatheter patent foramen ovale closure in the context of cryptogenic stroke (stroke: 76%, transient ischemic attack: 32%, systemic embolism: 1%). Data on ischemic and bleeding events, and on antithrombotic drugs, was collected over mean 12 years (range 10 to 17) and follow-up was completed in 96% of the population.
---
Read also: New Device for More Protection in Carotid Artery Stenting.
---
The closure device was successfully implanted in all cases, with residual shunt in 3.3% of patients at echocardiographic follow-up.
At total 13 patients died at follow-up (all of non-cardiac cause); 2 patients presented non-disabling stroke and 6 presented transient ischemic attack (0.08 strokes/100 patients/year).
15% of the cohort presented a history of thrombophilia, which tended to be associated to more ischemic events at follow-up (p=0.067).
---
Read also: Is Tricuspid Regurgitation after TAVR Significant?
---
Bleeding events occurred in 13 patients; 4 were major bleeding events (intracranial). They were all under aspirin at the time.
A total 42 patients stopped the antithrombotic treatment at mean 6 months after foramen ovale closure and no patient presented events (ischemic or hemorrhagic) after 10 ± 4-year follow-up.
Conclusion
Foramen ovale closure was associated with a very low rate of ischemic events (<1% stroke) over 10 years after procedure. Major bleeding occurred in 2% of the population (all patients were under antiaggregants).
Patients that suspended all antithrombotic medication (mostly within a year after patent foramen ovale closure) presented no ischemic or bleeding events at long term follow-up.
Original title: Long-Term Follow-Up After Closure of Patent Foramen Ovale in Patients With Cryptogenic Embolism.
Reference: Jérôme Wintzer-Wehekind et al. J Am Coll Cardiol 2019;73:278–87.
---
We are interested in your opinion. Please, leave your comments, thoughts, questions, etc., below. They will be most welcome.