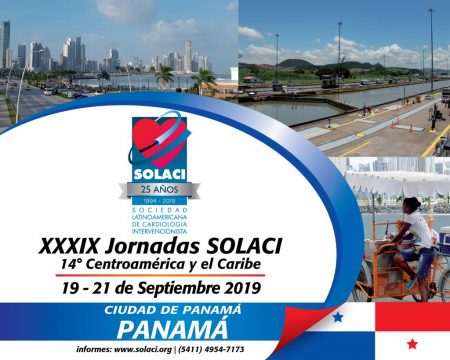 After 12 years, SOLACI returns to Panamá to continue promoting the development of interventional cardiology in Latin America. Do not hesitate to participate in this important event that will undoubtedly be enriching for medical practice and, also, to improve the quality of life of patients in our region.
Are you planning on participating in the next 2019 Panamá Sessions? Here is all you need to know!
When are the Sessions taking place?
On September 19th, 20th & 21st, 2019, within the XXIII Congreso Nacional de Cardiología de la Sociedad Panameña de Cardiología.
Where are they taking place?
They will take place in Panamá City, Panamá.
Where is the Sessions venue?
Megápolis Convention Center, Hard Rock Hotel of Panamá City, Panamá.
How can I sign up?
Write to jornadas@solaci.org or to IMPAKT@cableonda.net. Otherwise, enter www.cardiologiadepanama.org
Which are the registration fees?
Specialists | USD 300.
General doctors | USD 200.
Nurses | USD 150.
Technicians and students | USD 150.
Relevant topics
Advances in the pharmacological management of cardiovascular disease.
Update on diagnostic and therapeutic techniques.
Advances in the endovascular treatment of structural, coronary and peripheral heart disease.
Current role of imaging techniques in the diagnosis and management of cardiovascular disease.
Workshops, videoconferences, discussion of clinical cases (panel of experts).
SOLACI guests
Doctors:
Mario Araya (Chile).

Raúl Arrieta (Brazil).

Omar Santaera (Argentina).

Marcelo Halac (Argentina).

Carla Agatiello (Argentina).

Erick Hórnez (Bolivia).

Jorge Arauz (Costa Rica)

.

Jonathan Poveda (Costa Rica)

.

José María Hernández (Spain).

Andrés Iñiguez (Spain).

Mauricio Cohen (USA).

Diego Sadler (USA).

José Navia (USA).

Bolívar Tejada (Dominican Republic).

Juan José Flores (El Salvador).
Licenciados:
Lic. Fernando Orsi (Argentina).

Lic. Jose Uribe (Mexixo).

Lic. Margarita García (Costa Rica).

Lic. Maria Angélica Vázquez (Bolivia).

Lic. Felipe González (Chile).
Who are organizing these Sessions?
The Sociedad Latinoamericana de Cardiología Intervencionista (SOLACI) together with the Sociedad Panameña de Cardiología.
In case I have questions, where do I write?
To jornadas@solaci.org or visit www.solaci.org
How do I take part of the Clinical Case Contest for Interventionists in Training?
You can read the terms and conditions and submit your case through the following FORM.
What is the Image Contest about?
It is an interactive activity consisting in the presentation of a case series based on imaging. One or more multiple-choice questions will be asked regarding these cases. Participants will send their answers through their smartphones, which will connect to the evaluation information system. The Contest will also include a few questions on general knowledge for entertainment purposes. The participant with more correct answers will be the winner. Its first price will be the fee for full registration, lodging and transportation costs to Chile Sessions 2016 (November 30th and December 1st).
What are the winners of the Imaging and Clinical Case Contests awarded?
All costs to some of the next SOLACI Sessions will be waived.
---
We are interested in your opinion. Please, leave your comments, thoughts, questions, etc., below. They will be most welcome.