This study findings confirm less bleeding at no extra cost of thrombotic events when aspirin is discontinued after an acute coronary syndrome (ACS).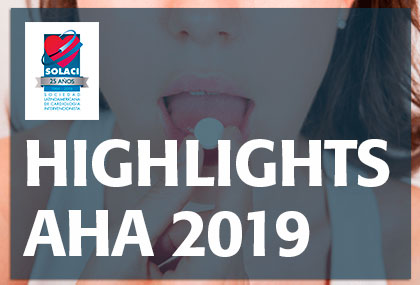 In the same line as the original TWILIGHT, this study focused on ACS patients alone (excluding STEMI) and confirmed that aspirin discontinuation after 3-month DAPT to continue with ticagrelor alone, reduced the risk of bleeding without increasing the risk of ischemic events. 
The benefits of ticagrelor monotherapy were the same across the whole spectrum of non-ST elevation ACS. 
---
Read also: AHA 2019 | RECOVERY: Early Surgery in Asymptomatic Severe Aortic Stenosis.
---
This sub-study included 4614 non-ST elevation ACS patients of the main study (2494 unstable angina patients and 2120 NSTEMI patients).
34.2% of patients presented 1 to 3 clinical or angiographical risk characteristics, 48.6% presented 4 to 5 and 17.3% presented 6 or more. One third of patients were diabetic and four were active smokers or had a history of MI. Mean stent length was 40 mm and treatment adherence was high.
Primary end point, BARC bleeding 2, 3 or 5, was significantly lower in the group that received ticagrelor monotherapy as of the third month vs those that continued with aspirin + ticagrelor (3.6% vs 7.6%; HR 0.47; CI 95% 0.36-0.61).
This advantage in bleeding did not bring along increased ischemic events, which resulted similar between the groups (4.3% vs 4.4%; HR 0.97; CI 95% 0.74-1.28).
---
Read also: AHA 2019 | GALILEO-4D: Rivaroxaban in the Prevention of Post TAVR Valve Thickening and Thrombosis.
---
Results were consistent regardless risk factors and clinical presentation. 
Original Title: Ticagrelor with aspirin or alone in high-risk patients after coronary intervention for acute coronary syndrome.
Reference: Baber U. Presentado en el congreso AHA 2019. Noviembre 17, 2019. Philadelphia, PA.
---
We are interested in your opinion. Please, leave your comments, thoughts, questions, etc., below. They will be most welcome.