We have the honor to invite you to participate in the Latin American Registry of Percutaneous Interventions in Coronary Bifurcations – LATAM Bif Registry.
Coronary bifurcations represent a field of particular interest in interventional cardiology, representing 15-20% of coronary angioplasties performed in our daily practice.
The LATAM Bif Registry is the scientific research program of the Latin American Society of Interventional Cardiology (SOLACI) and the LATAM Bifurcation Club. It is a multicenter and prospective registry, open to all Latin American centers eager to participate. It seeks to evaluate the reality of bifurcation PCI, to better define our needs and establish the best strategies to perfect our daily practice.
Learn about the structure of the LATAM BIF registry in the following video: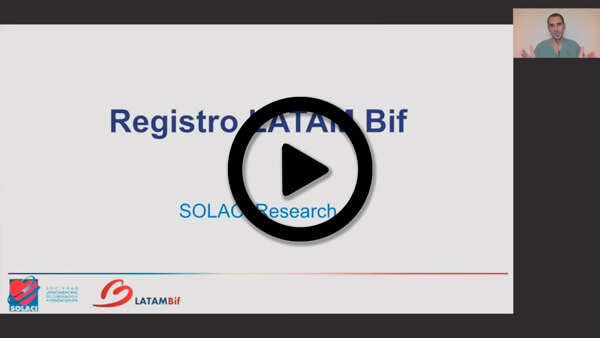 The benefits of participating
Access our own database dedicated to coronary bifurcations, with unified criteria across Latin American centers.
Analyze outcomes in real time with data from your own center.
Interact with centers across the region interested in promoting research and furthering publishing.
Present LATAM Bif outcomes at local and international events.
Benefit from SOLACI Research assistance to develop your research projects and/or statistical analysis.
Work closely with SOLACI Research, who will oversee your progress weekly and will make sure all data be used correctly from start to finish, with annual (mandatory) followup.
SOLACI and all LATAM Bif Registry members would be honored to count on all member societies and their support to this important initiative.
To take part of LATAM Bif Registry, please email us to latambif@gmail.com
Sincerely,
---
(Visited 2 times, 2 visits today)