Courtesy of Dr. Carlos Fava.
In secondary mitral regurgitation, mitral-valve leaflets and chordae are structurally normal and mitral regurgitation results from alterations in left ventricular geometry and function.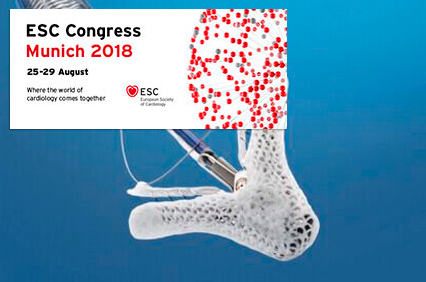 At present, prognosis is based on ventricular function and the regular course of action is optimal medical treatment. Even though some studies have shown edge-to-edge percutaneous repair with MitraClip seems to improve symptoms, functional class and 6-minute walk test results, it has not been tested yet in large randomized studies.
This randomized study included patients with secondary mitral valve regurgitation with effective regurgitant orifice area of >20 mm2 or a regurgitant volume of >30 ml per beat, ejection fraction between 15 and 40%, and functional class II-III-IV.
It included 152 patients receiving MitraClip + medical treatment vs. 152 receiving only medical treatment.
---
Read also: ESC 2018 | ARRIVE: Aspirin in the Eye of the Storm of Primary Prevention.
---
Primary end point was all cause death and unplanned hospitalization for cardiac failure at 12 months.
Mean age was 70 (patients were mostly men); ejection fraction was 33%; effective regurgitation area was 33 mm2; regurgitant volume was 45 ml; and EuroSCORE was 6.
Implantation success was 95.8%, and in 75.6% of patients, MR was 0 or 1+.
---
Read also: ESC 2018 | CLARIFY: No Survival Benefit with Beta-Blockers Beyond 1 Year After Infarction.
---
At 12-month follow up, primary end point was 56.4% in patients undergoing percutaneous repair and 51.3% in the medical treatment group (odds ratio, 1.16; 95% confidence interval [CI], 0.73 to 1.84; P = 0.53). All-cause mortality was 24.3% vs. 22.4% (hazard ratio, 1.11; 95% CI, 0.69 to 1.77) and unplanned hospitalization was 48.7% vs. 47.4% (hazard ratio, 1.13; 95% CI, 0.81 to 1.56).
Conclusion
Among patients with secondary mitral regurgitation, death or unplanned hospitalization rate for cardiac failure at one year does not significantly differ between patients receiving percutaneous repair with medical treatment and patients receiving medical treatment alone.
Comment
In this randomized study, there was no benefit in terms of mortality or unplanned hospitalization for cardiac failure. This might be a consequence of ventricular function deterioration caused by severe ischemia and/or necrosis which, as we all know, is a negative predictor; this in addition to a medical treatment indeed optimal.
We'll be looking forward to the long-term outcomes. We should also know more about the drugs involved, and assess functional class and 6-minute walk results.
Courtesy of Dr. Carlos Fava.
Original title: Percutaneous Repair or Medical Treatment for Secondary Mitral Regurgitation.
Reference: J.-F. Obadia, Et Al. For the MITRA-FR Investigators. NEJM DOI: 10.1056/NEJMoa1805374.
---
We are interested in your opinion. Please, leave your comments, thoughts, questions, etc., below. They will be most welcome.