Coronary perforation has an incidence of 0.5% and it is associated with a 13-fold increase in in-hospital events and a 5-fold increase in 30-day mortality. This event is so catastrophic that its management has become indispensable knowledge to all interventional cardiologists.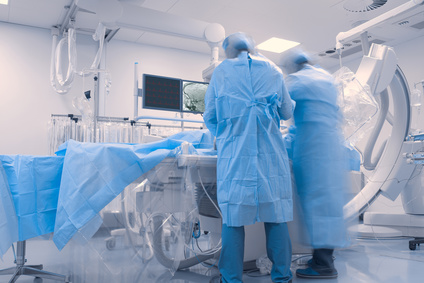 This accident is most frequently provoked by artery over-dilation caused by a balloon or stent, particularly when the balloon/artery ratio is >1.2:1 or when complacent balloons are used at high pressure. However, it sometimes happens after all precautions have been taken, particularly in extremely calcified arteries. The guidewire can also cause a distal perforation, particularly in aggressive procedures in a setting of chronic total occlusion.
Other associated factors are the use of atherectomy devices (rotational atherectomy), cutting balloons, old age, female sex, and prior myocardial revascularization surgery.
---
Read also: Frequency and Evolution of Cardiac Perforation in Patients with a History of MRS.
---
Historically, coronary perforation has been classified in 3 types, according to severity (the Ellis classification). Type III perforations can cause cardiac tamponade, hemodynamic collapse, and death.
Acute, sudden pain during balloon dilation or stenting should make us suspect this complication. The balloon should not be pulled out of the guidewire until an angiography confirms or rejects this diagnosis.
Reversing heparin with 1 mg of protamine for every 100 U of sodium heparin administered (target activated clotting time [ACT]: <150 s) is an almost desperate maneuver that may result in thrombosis in the whole coronary artery.
---
Read also: Is Emergency Cardiac Surgery Necessary in TAVR?
---
Once the coronary perforation has been confirmed, the very same balloon responsible for the perforation must be placed immediately so as to stop hemostasis. The balloon must be insufflated at the lowest pressure achieving hemostasis, with regular verification through a contrast injection (4 atmospheres, sometimes less, are often enough) for 5-10 minutes, depending on the perforation size and the patient's tolerance to ischemia.
If this does not seal the perforation, the balloon must be positioned in the correct place and insufflated with slightly higher pressure.
If the perforation involves the left main coronary artery, we should use a perfusion balloon catheter or a coated stent, directly.
---
Read also: How to predict post TAVR quality of life in "real world" patients.
---
Having an echocardiography machine in the cath lab is good. If the effusion is severe and there is physiological tamponade, a pericardiocentesis must be conducted (even if the patient is clinically stable). If the patient is unstable, a pericardiocentesis must be carried out immediately while the insufflated balloon is used for hemostasis, without waiting for an echocardiography.
The blood aspirated from the pericardium can be reinfused immediately through a vein.
Type 1 perforation is generally solved with extended insufflation, but types 2 and 3 often require other maneuvers.
Such maneuvers will depend on perforation site and vessel size. In case of distal perforation or a small vessel, embolization with subcutaneous fat, thrombin, coils, or particles may be needed.
---
Read also: New Anticoagulant Agents in Atrial Fibrillation in Latin American Patients, Specifically.
---
Coated-stent implantation is one of the last resorts before surgery (although surgeons must always be brought up to speed on this complication).
Coated stents have reduced significantly the rates for tamponade, emergency surgery, and death associated with this complication. All services should count with at least 2 or 3 of these devices (in different sizes), in case they are needed.
New-generation devices are acceptable or at least much better than early-generation devices. However, they will always present more difficulties than current drug-eluting stents, particularly when it comes to tortuous, calcified anatomies. This is why we should have little patience and, if the coated stent is not lowered in the first attempt, the regular balloon should be insufflated again and access should be obtained with another guidewire ("ping pong" technique) in order to maintain hemostasis while attempting navigation with the coated stent.
If lateral vessels are involved in the perforation, these will be occluded by the coated stent, causing a myocardial infarction. If these cannot be lost, all that is left for us is to take the patient to the OR with the insufflated balloon to keep hemostasis.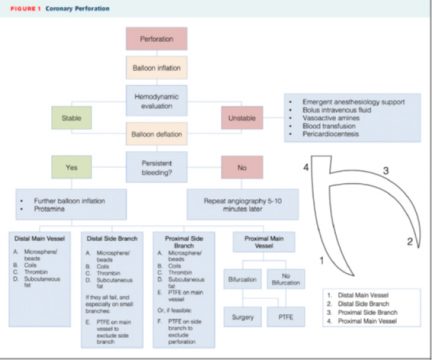 Original title: A Practical Approach to the Management of Complications During Percutaneous Coronary Intervention.
Reference: Francesco Giannini et al. J Am Coll Cardiol Intv 2018;11:1797-810.
---
We are interested in your opinion. Please, leave your comments, thoughts, questions, etc., below. They will be most welcome.