While the guidelines do not recommend a specific treatment target, they suggest additional therapy in high-risk patients with LDL 70 mg/dL or higher.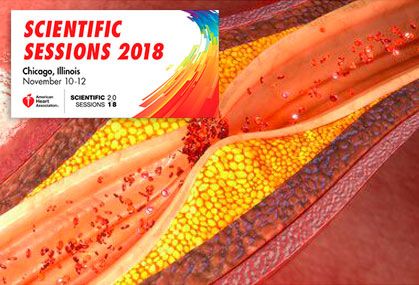 These new guidelines from the American College of Cardiology (ACC) and the American Heart Association (AHA) start recommending ezetimibe or PCSK9 inhibition in select high-risk patients and proposing noninvasive coronary artery calcium screening with computerized tomography to help make decisions about patients who fall into the gray zone.
These new guidelines, presented at the American Heart Association (AHA) Congress (and published simultaneously in Circulation), took 18 months and feature 72 recommendations, including 29 that are class I. Similarly to all guidelines, they recommend a healthy lifestyle for all age groups.
---
Read also: Highlights from TCT 2018.
---
High cholesterol is both preventable and treatable, and these guidelines will give clinicians the tools they need to converse with patients and come up with individually-tailored treatment.
These guidelines emphasize that having high cholesterol at any age significantly increases cardiovascular risk, recommending early risk assessment, even among children and young adults.
In a secondary prevention setting, there is now a class I indication for reducing LDL levels by 50% or more with a high-intensity statin (atorvastatin 40-80 mg or rosuvastatin 20-40 mg), or the maximally tolerated dose in all patients with evidence of cardiovascular disease.
---
Read also: Highlights from ESC 2018.
---
For very-high-risk patients (multiple cardiovascular events and risk factors) and those with LDL ≥70 mg/dL, the guidelines recommend adding ezetimibe to the maximally tolerated statin dose (class IIa). If LDL still remains ≥ 70 mg/dL, a PCSK9 inhibitor such as alirocumab or evolocumab (class IIa) could be added. However, guidelines state that the long-term safety of these monoclonal antibodies is unknown.
In patients with primary hypercholesterolemia who have LDL levels ≥190 mg/dL, physicians should start a high-intensity statin treatment regardless of the risk at 10 years.
For diabetic patients from 40 to 75 years old, the guidelines recommend a moderate-intensity statin treatment regardless of the risk at 10 years (class I). If a diabetic patient has other risk factors or is ≥50 years old, an intensive treatment (class IIa) can be considered.
A significant change from previous guidelines is that current ones recommend monitoring patients 4 to 12 weeks after starting therapy to assess its effect and, then, continued monitoring every 3 to 12 months thereafter.
Original title: 2018 AHA/ACC/AACVPR/AAPA/ABC/ACPM/ADA/AGS/APhA/ASPC/NLA/PCNA Guidelines on the Management of Blood Cholesterol: A Report of the American College of Cardiology/American Heart Association Task Force on Clinical Practice Guidelines.
Reference: Grundy SM et al. Circulation. 2018; Epub ahead of print.
---
We are interested in your opinion. Please, leave your comments, thoughts, questions, etc., below. They will be most welcome.