The Latin American Society of Interventional Cardiology has signed a cooperation agreement with the Stent — Save a Life! Initiative, a project created by the European Association of Percutaneous Cardiovascular Interventions (EAPCI) and PCR in 2009. Its aim is to reduce morbidity and mortality in patients with acute coronary syndromes worldwide. The mission of this Initiative is to save lives by improving access to guidelines complying with primary percutaneous coronary intervention therapies in patients suffering from acute myocardial infarction all over the world.
The agreement was signed on May 20th, 2019, during the annual Stent – Save a Life! Initiative forum held a day before the EuroPCR 2019 Congress in Paris. During the same event, Uruguay also signed a cooperation and endorsement agreement with the Initiative through attendees Dr. Ignacio Batista and Dr. Jorge Mayol.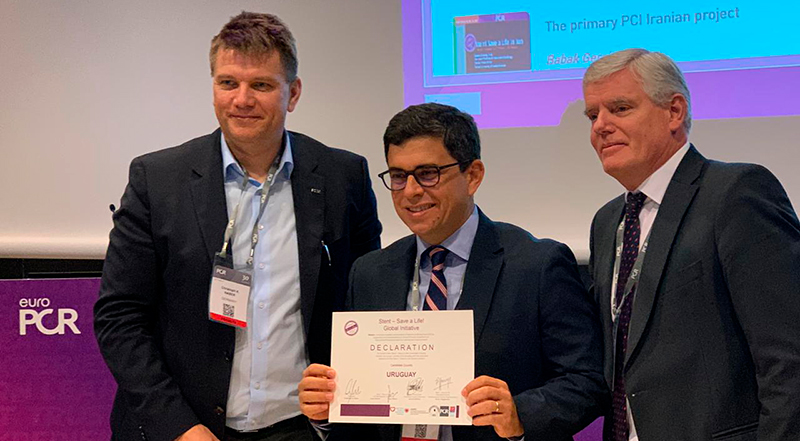 Additionally, SOLACI commends Dr. Jorge Belardi (former SOLACI president) and Dr. Jorge Mayol (former SOLACI Sessions director) for their participation as this year's coordinators of the scientific program for this event and as Latin American representatives for the Stent — Save a Life! Initiative. Moreover, Dr. Alfonsina Candiello, SOLACI member and Stent — Save a Life! Country Champion for Argentina, took part in the team responsible for the elaboration of a new project called Blueprint Project.
SOLACI celebrates and endorses all activities conducted by the Initiative, and vows to continue searching for the best possible treatment for patients with acute myocardial infarction worldwide.
---
We are interested in your opinion. Please, leave your comments, thoughts, questions, etc., below. They will be most welcome.