In patients with atrial fibrillation and stable coronary artery disease who have not had revascularization procedures in the last 12 months, monotherapy with rivaroxaban seems the best treatment strategy compared to rivaroxaban plus antiplatelet antiaggregation. This is what resulted from the AFIRE study, presented during the ESC 2019 in Paris and published in NEJM.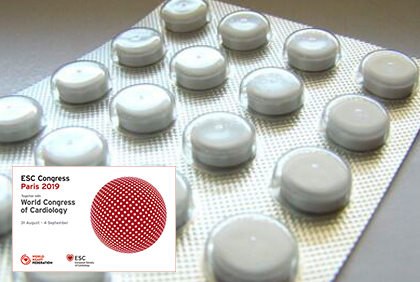 Monotherapy with rivaroxaban resulted non-inferior in terms of the composite of stroke, systemic embolism, infarction, unstable angina requiring revascularization and all-cause death at 2-year follow-up (4.14% vs 5.75% per patient/year; p<0.001 for non-inferiority).
We also saw significant lower risk of bleeding with the monotherapy, and even all-cause death saw a reduction (1.85% vs 3.37%), which involves reduced rate of both cardiac and non-cardiac deaths. This difference in safety in favor of the monotherapy with rivaroxaban was behind the early interruption of the study.
With this evidence, rivaroxaban with no antiaggregation seems the best strategy in known coronary patients that also present atrial fibrillation, as long as a year has passed since the last revascularization procedure.
---
Read also: ESC 2019 | MITRA-FR: 2-Year Outcomes of One of the Largest Studies on MitraClip.
---
One of the limitations of this study was the relatively low number of patients and the fact that it only included Asian (who are often smaller and therefore more prone to bleeding with the same dose).
The AFIRE randomized patients to rivaroxaban monotherapy (10 mg/day for those with creatinine clearance of 15 to 49 ml/min or 15 mg/day for patients with 50 ml/min or more) vs rivaroxaban plus simple antiaggregation according to physician criteria (70% received aspirin and the rest some P2Y12 inhibitor with clopidogrel mostly).
At mean follow-up of 24.1 months, rivaroxaban as monotherapy reached non-inferiority criterion. The monotherapy also resulted safer, with reduced net adverse events (3.90% vs 6.28%, composite of all-cause death, infarction, stroke and major bleeding).
Original title: Antithrombotic therapy for atrial fibrillation with stable coronary disease.
Reference: Yasuda S et al. N Engl J Med. 2019; Epub ahead of print.
---
We are interested in your opinion. Please, leave your comments, thoughts, questions, etc., below. They will be most welcome.
(Visited 1 times, 1 visits today)