After 3 years, SOLACI returns to Ecuador -this time to the beautiful city of Manta- to continue promoting the development of interventional cardiology in Latin America. Do not hesitate to participate in this important event that will undoubtedly be enriching for medical practice and, also, to improve the quality of life of patients in our region.

Below you will find all the relevant information you need to know about the Ecuador Regional Sessions 2020.
When?
March 6th & 7th, 2020.
Where?
They will take place in Manta, Ecuador. (Oro Verde Hotel).
How can I register?
By entering HERE.
Which are the registrations fees?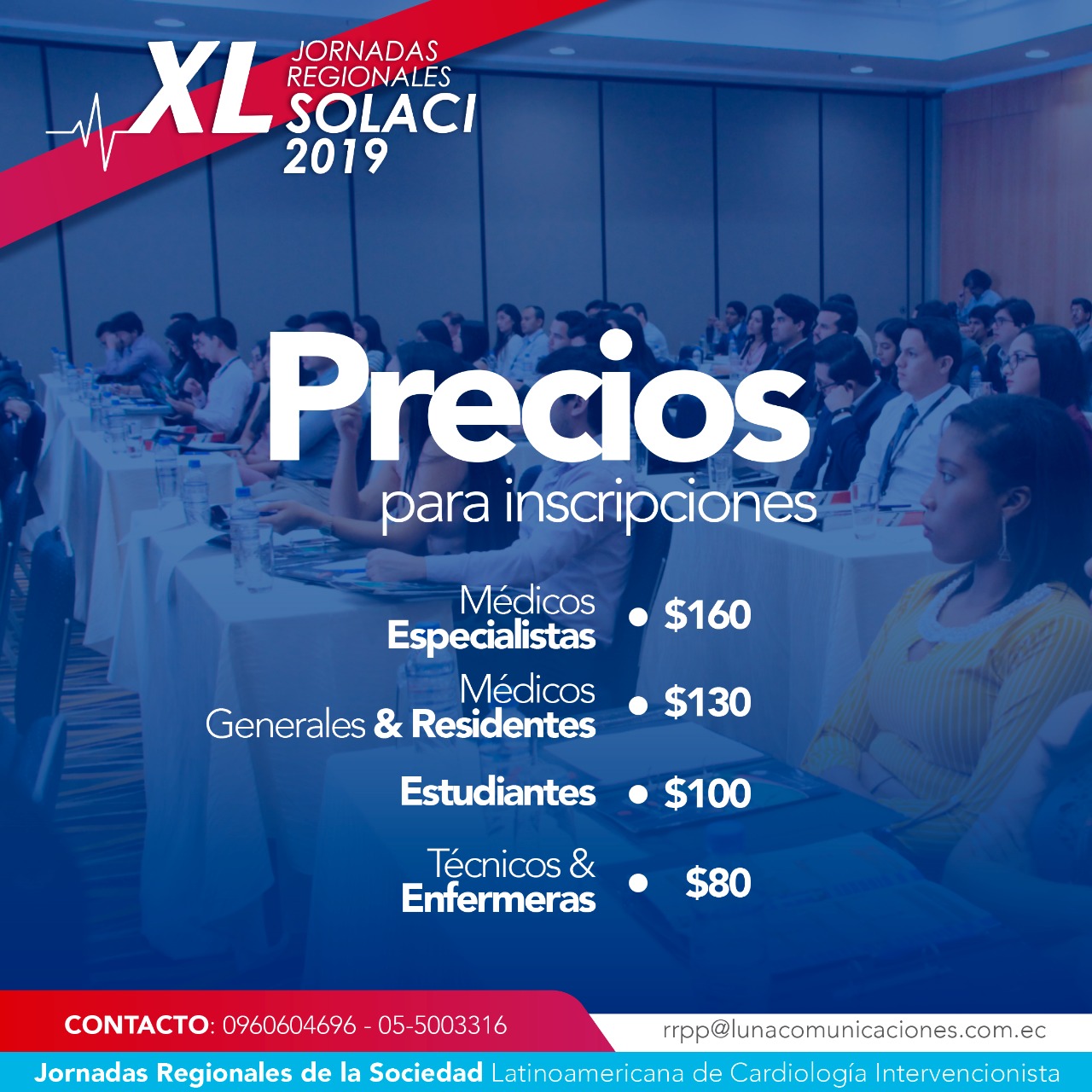 Specialists | USD 160.
Generales Physicians | USD 130.
Students | USD 100.
Technicians & Nurses | USD 80.
Scientific Program
Which are the relevant topics?
Acute Coronary Syndrome
Coronary interventionism.
Aortic Valve Interventions.
Mitral valve.
Antithrombotic Therapy
Atrial Fibrillation Intervention.
Pediatric intervention.
Live cases.
Clinical Case Contest for Young Interventionists
Imagen Contest.
Who are organizing these sessions?
The Latin American Society of Interventional Cardiology alongside with the Ecuadorian Society of Cardiovascular Interventions (SEICAV).
Contact
Mail: rrpp@lunacomunicaciones.com.ec / jornadas@solaci.org.
Phones: ☎ 05-5003316 / 📲 0960604696.
¿En qué consiste el Concurso de Imágenes?
It is an interactive activity consisting in the presentation of a case series based on imaging. One or more multiple-choice questions will be asked regarding these cases. Participants will send their answers through their smartphones, which will connect to the evaluation information system. The Contest will also include a few questions on general knowledge for entertainment purposes. The participant with more correct answers will be the winner. Its first price will be the fee for full registration, lodging and transportation costs to Chile Sessions 2016 (November 30th and December 1st).
What are the winners of the Imaging and Clinical Case Contests awarded?
All costs to some of the next SOLACI Sessions will be waived.
SOLACI Board
Jornadas SOLACI Director
Dr. Mario Araya (Chile).
Jornadas SOLACI Vice Director
Dr. Gustavo Vignolo (Uruguay).
SOLACI Sessions Scientific Committee Director
Dr. Marcio Montenegro (Brasil).
SEICAV Board
SEICAV President
Dr. Gustavo Hidalgo.
SEICAV Vice President
Dr. José Vivas Guijarro.
SEICAV Secretary
Dr. Alfonso Zambrano.
SEICAV Pro-secretary
Dr. Wishton Moreira.
SEICAV Vocal
Dr. Ricardo Ortíz.
SEICAV Vocal
Dr. Erwin Téllez.
---
We are interested in your opinion. Please, leave your comments, thoughts, questions, etc., below. They will be most welcome.