Courtesy of Dr. Carlos Fava.
Unprotected left main PCI (PCI-UPLMS) is an acceptable and comparable strategy vs CABG, although the use of IVUS is advisable, since it has shown better evolution and mortality. However, the adequate stent expansion remains unclear.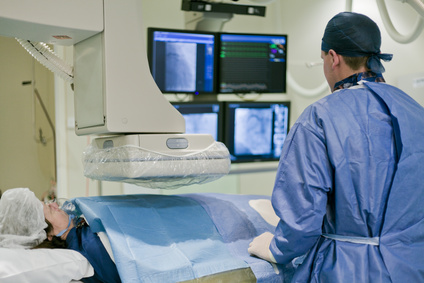 Researchers carried out a sub-analyzis of the NOBLE trial. Of the total 603 patients receiving PCI UPLM, IVUS was used in 474, pre-PCI in 270 (45%) and post-PCI in 435 (72%).
At 5 years, MACE rate was 18.9% if post-PCI IVUS was performed versus 25.0% if it was not performed (p=0.45). However, target vessel revascularization was lower with post PCI IVUS (5.1% vs 11.6% p=0.001).
To study stent expansion at left main level, minimal stent area (MSA) was slit into 3 tertiles (4.4-10.8 mm2, 10.9-13.4 mm2 and 13.4-25.4 mm2).
Patients in the last tertile presented lower target vessel revascularization (TLR) compared to those in the first tertile (12.2% vs 0% p=0.002) and lower need for repeat revascularization (17.6% vs. 5.2% p=0.02).
---
Read also: Quantitative Angiography that Estimates Shear Stress and Predicts Events.
---
There were no differences in death, MI or stent thrombosis.
Conclusion
Post PCI IVUS assessment and adequate stent expansion was not associated to reduced MACE rate, yet there was a reduction in unprotected left main TLR.
The use of IVUS to prevent stent underexpansion in unprotected left main PCI might improve evolution.
Courtesy of Dr. Carlos Fava.
Original Title: Intrvascular ultrasound to guide left main stem intervention: a NOBLE trial substudy.
Reference: Andrew Ladwiniec, et al. EuroIntervention 2020;16:201-209.
---
We are interested in your opinion. Please, leave your comments, thoughts, questions, etc., below. They will be most welcome.