In coronary artery disease (CAD), lumen area and plaque burden, characteristics and physiological impact are what define prognosis.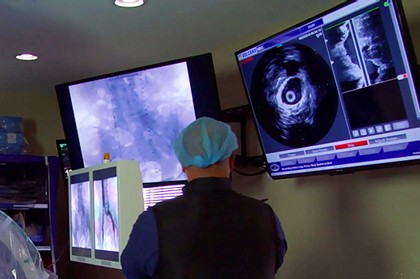 At present, coronary angiography continues to be the gold standard for CAD assessment.
When considering PCI to treat intermediate lesions, FFR has been shown beneficial and safe. Not yet IVUS.
1682 patients with intermediate lesions (40 – 70% occlusion) in 2.5 mm vessels by visual estimation to be assessed with FFR or IVUS. 838 of these vessels were assessed with FFR (49.8%) and 844 with IVUS (50.2%).
Primary end point was a composite of all cause death, myocardial infarction and/or revascularization within 24 months after randomization.
Mean age was 65, mostly men, 33% diabetic, 17% had kidney function deterioration, 6% prior MI, 20% PCI. Ejection fraction was 63%.
Read also: Gender Differences and 10-Year Prognosis in STEMI.
63% presented stable heart disease, 30% acute coronary syndrome, 1.6% NSTEMI and 0.5% STEMI.
The artery most frequently affected was the anterior descending (61%), 47% of patients presented only one vessel, and 32% two vessels. There were no differences in vessel diameter, lesion obstruction or length.
In patients who underwent IVUS there were more angioplasty procedures (65.3% vs. 44.4%).
Primary end point at 24 months was similar for both strategies (8.1% vs. 8.5% P=0.01 for non-inferiority)
Read also: Is TCA Useful for Severe Impairment of Left Ventricular Ejection Fraction?
Neither were there differences in all-cause mortality (4.6% vs. 3.4%), MI (1.9% vs. 1.7%), revascularization (5.7% vs. 5.3%) or stroke (0.7% vs. 1.2%) for FFR or IVUS respectively.
Conclusion
In patients with intermediate lesions assessed for PCI, FFR was non inferior to IVUS as regards primary end point evolution, the composite of death, MI or revascularization, at 24 months.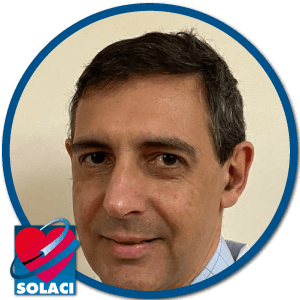 Dr. Carlos Fava.
Member of the Editorial Board of SOLACI.org.
Original Title: Fractional Flow Reserve or Intravascular Ultrasonography to Guide PCI. For the FLAVOUR Investigators.
Reference: B.-K. Koo, et al. N Engl J Med 2022;387:779-89. DOI: 10.1056/NEJMoa2201546.
---
Subscribe to our weekly newsletter
Get the latest scientific articles on interventional cardiology