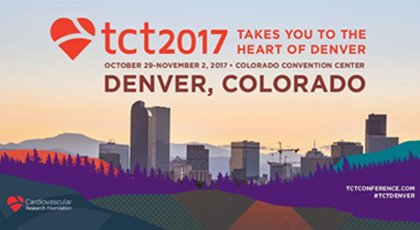 TCT Conference 2017
Here you will find the highlights of the TCT Conference 2017, held on October 29-31 and November 1-2 in the city of Denver, Colorado (USA).
TCT 2017 | PREVAIL: Final Outcomes of the Watchman Device
Courtesy of SBHCI. The final 5-year outcomes of the PROTECT AF and PREVAIL studies (which assessed the left atrial appendage closure device Watchman) continues to show similar stroke ...
TCT 2017 | FAME 2 at 3 Years: Better Results with Angioplasty and at a Cost Similar to Medical Treatment
Courtesy of SBHCI. Angioplasty in patients with chronic stable angina and functionally significant lesions improves clinical outcomes and quality of life over the long term, as compared ...
TCT 2017 | SENIOR: DES with a Bioresorbable Polymer and Short Dual Antiplatelet Therapy in Elderly Patients
Courtesy of the SBHCI. This study sought to assess the safety and efficacy of an everolimus-eluting stent with a biodegradable polymer (SYNERGY II) vs. a conventional stent ...
TCT 2017 | REDUCE: 3 vs 12 Months of Dual Antiplatelet Therapy with the New Combo DES
Courtesy of SBHCI. This new device has, on one hand, an abluminal sirolimus coating, and on the other hand, a luminal CD34 antibody coating for EPC capturing, to potentially accelerate ...