Courtesy of SBHCI.
The final 5-year outcomes of the PROTECT AF and PREVAIL studies (which assessed the left atrial appendage closure device Watchman) continues to show similar stroke prevention rate to that of warfarin, though with a clear reduction in bleeding.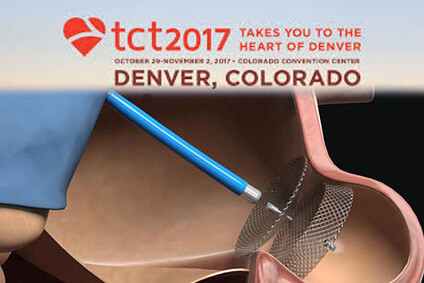 The meta-analysis showed a significant reduction in hemorrhagic stroke (0.17% vs 0.87%), non-procedure related major bleeding (1.7% vs 3.6%), disabling or fatal stroke (0.37% vs 0.94%), cardiovascular death (1.3% vs 2.2%) and all-cause death (3.6% vs 4.9%). All these differences were significant.
---
Read also: "TCT 2017 | The TRI-REPAIR and the FORMA Trials: New Devices for the "Forgotten Valve".
---
As previously seen, ischemic stroke and systemic embolism rates were numerically higher with the Watchman device, though not significantly (1.6% vs 0.95%; p=0.08).
The 5-year outcomes of these two randomized studies show that left atrial appendage closure with this device prevents stroke in patients with non-valvular atrial fibrillation similarly to anticoagulation, in addition to minimizing major bleeding, particularly hemorrhagic stroke.
---
Read also: "TCT 2017 | SENIOR: DES with a Bioresorbable Polymer and Short Dual Antiplatelet Therapy in Elderly Patients".
---
This work, presented at TCT 2017 by Dr. Saibal Kar, was simultaneously published in the Journal of the American College of Cardiology.
Courtesy of SBHCI.
Original title: 5-year outcomes after left atrial appendage closure: from the PREVAIL and PROTECT AF trials.
Presenter: Kar S.
---
We are interested in your opinion. Please, leave your comments, thoughts, questions, etc., below. They will be most welcome.
(Visited 5 times, 3 visits today)