High risk patent foramen ovale closure PFO resulted in reduced stroke, vascular death and bleeding risk.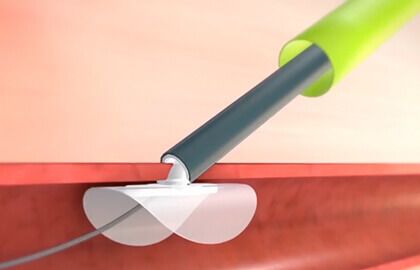 Recent reports have shown a favorable role of PFO in patients with cryptogenic stroke, though with some unclear results, which immediately raised the questions: Who are the optimal candidates for this procedure, and who will see no benefit?
This study focused on certain characteristics of PFO assessed by transesophageal ECG that could be risk predictors and tilt the scales for transcatheter PFO closure.
---
Read also: Stroke, Migraine and Patent Foramen Ovale Not Necessarily Temporary Associated.
---
The study included patients with cryptogenic stroke and high risk characteristics such as atrial septal aneurysm, septal hypermobility (phasic septal excursion into either atrium ≥10 mm), and PFO size (maximum separation of the septum primum from the septum secundum) ≥2 mm.
Primary endpoint was a composite of stroke, vascular death, or TIMI major bleeding during a 2 year follow-up.
It included 120 patients between 2011 and 2017 randomized to PFO closure vs. medical treatment alone. The three high risk characteristics of PFO were assessed by transesophageal ECG and resulted similar in both groups.
---
Read also: ACC 2018 | Echocardiographic Data Help Better Choose Patients for Patent Foramen Ovale Closure.
---
All PFO closure procedures were successful.
Primary end point was exclusively observed in the medication only group (6/60 patients; combined events rate at two years, 12.9% [p=0.013]; ischemic stroke rate at 2 years, 10.5% [p=0.023]).
In the medical treatment group, events included ischemic stroke (n=5), intercranial bleeding (n=1), TIMI major bleeding (n=2) and transient ischemic attack (n=1).
---
Read also: Closure of Patent Foramen Ovale for the Treatment of Migraine.
---
In the PFO closure group, complications included the development of atrial fibrillation (n=2), pericardial effusion (n=1) and pseudo aneurysm (n=1). There were no fatal complications.
Conclusion
Transcatheter patent foramen ovale closure in patients with a history of cryptogenic stroke and high risk characteristics assessed by transesophageal ECG, results in a significantly lower rate of stroke, vascular death and major bleeding, compared against patients undergoing medical treatment alone.
Original title: Cryptogenic Stroke and High-Risk Patent Foramen Ovale: The DEFENSE-PFO Trial.
Reference: Pil Hyung Lee et al. Journal of the American College of Cardiology (2018), online before print.
---
We are interested in your opinion. Please, leave your comments, thoughts, questions, etc., below. They will be most welcome.