Treating acute decompensated heart failure patients with an angiotensin receptor inhibitor plus a neprilysin receptor inhibitor significantly reduces N-terminal pro-B-type natriuretic peptide (NT-proBNP) concentrations and clinical events, according to the PIONEER-HF study presented at the American Heart Association (AHA) Congress Scientific Sessions and published simultaneously in the New England Journal of Medicine (NEJM).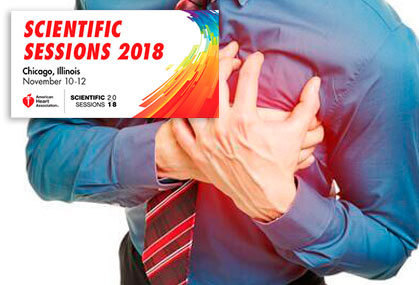 The study showed that the clinical benefit was driven by a 44% reduction in heart failure rehospitalizations. Additionally, the sacubitril/valsartan combination was well tolerated, with comparable rates of worsening renal function, hyperkalemia, symptomatic hypotension, or angioedema when compared with enalapril alone.
This treatment initiated in the hospital can be continued in the long term, as proven by the PARADIGM-HF trial in 2014.
The PIONEER-HF study included patients with heart failure, reduced ejection fraction and elevated NT-proBNP concentrations in a setting of acute decompensation.
---
Read also: AHA 2018 | No Benefits with Methothrexate as Anti-Inflammatory Drug.
---
All patients had to be stable before randomization, i.e. with a 100 mmHg blood pressure, no increase in the use of intravenous diuretics, no use of intravenous vasodilators in the preceding 6 hours, and no use of inotropes during the preceding 24 hours.
There was a 29% reduction in the primary endpoint, defined as the change in NT-proBNP concentrations from baseline to weeks 4 and 8.
Original title: Angiotensin-Neprilysin Inhibition in Acute Decompensated Heart Failure.
Reference: Velazquez EJ et al. N Engl J Med. 2018; Epub ahead of print.
---
We are interested in your opinion. Please, leave your comments, thoughts, questions, etc., below. They will be most welcome.