Courtesy of Dr. Carlos Fava.
Mitral regurgitation is the most frequent type of valve disease, accounting for >6% of patients over 65 years old.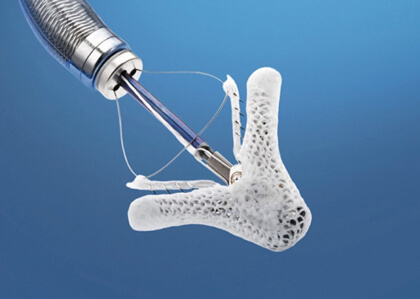 Surgery is currently the strategy of choice, but percutaneous treatment is a valid alternative.
The long-term progress of symptomatic patients at high surgical risk who do not meet the formal indications for percutaneous strategy has not been assessed yet.
Researchers analyzed 203 patients at high risk for surgery who did not meet classical criteria for MitraClip implantation. Among them, 85 received MitraClip (41.9%), 42 underwent surgery (20.7%) (27, replacement surgery and 15, repair surgery), and 76 received medical treatment.
---
Read also: Optimal Revascularization Time in Transient STEMI.
---
The two most common reasons for exclusion from percutaneous treatment were frailty and tricuspid regurgitation, followed by prior aortic valve therapy, severe mitral annular calcification, large mitral annular diameter, and risk for left ventricular outflow tract obstruction.
The mean age was 79 years and over half the patients were female. About 64% of all patients had atrial fibrillation and were classified as New York Heart Association functional class III-IV. The regurgitant orifice area was larger among patients who underwent a procedure, and the regurgitant volume (0.54 vs. 0.41; p = 0.004 and 82 vs. 65; p = 0.02) and the ejection fraction were higher (57 vs. 51; p = 0.02).
The in-hospital death rates for patients who underwent a procedure were 0% for MitraClip patients, 6.7% for surgical repair patients, and 7.4% for valve replacement patients.
---
Read also: The Ten Commandments for the Fourth Universal Definition of Infarction.
---
The mean follow-up was 7 months (2.5 to 19 months). After a 1-year follow-up, cardiac death rates were lower among patients who underwent a procedure (2.4% vs. 11.8%; p < 0.0001). The rates for survival free from death and survival free from death and heart failure were also higher among patients in this group, compared with patients who received medical treatment.
Conclusion
Patients ineligible for percutaneous treatment who receive medical treatment have poor outcomes. These data and the high number of patients who are ineligible for percutaneous repair support the need for interaction among treatment strategies, as well as development of alternative treatments to improve the prognosis of these patients.
Courtesy of Dr. Carlos Fava.
Original title: Causes and Clinical Outcomes of Patients Who Are Ineligible for Transcatheter Mitral Valve Replacement.
Reference: Hiroki Niikura et al. J Am Coll Cardiol Intv 2019;12:196-204
---
We are interested in your opinion. Please, leave your comments, thoughts, questions, etc., below. They will be most welcome.