In-hospital PCI right after CABG is extremely rare, but it does increase morbidity, mortality and costs significantly.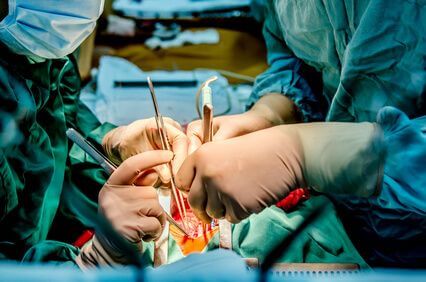 It is still unclear what predictors can be modified to prevent these very early angiography and angioplasty procedures in patients that generally leave the OR with visible EKG changes. Graft failure, distal vascular bed quality, technical error or maybe simply spasm caused by manipulation.
Fortunately, every once and again, we are presented with recovering patients with ST elevation right out of surgery and there is no alternative but to take them to the cath lab.
---
Read also: TAVR Learning Curve and Volume-Outcomes Relationship Plateau.
---
In general, when ST elevation is in the inferior leads (DII, DIII, aVF) we find patent grafts that, most probably, stem from a badly purged system and a resulting air embolism.
Quite different are the cases when ST elevation is anterior; here in general, we see problems such as occluded mammary arteries, spasmed anterior descending arteries and a bad vascular bed, etc. Nitroglycerin should be the first course of action, seeing as PCI on such recent anastomosis involves a high risk of rupture.
This study included 554987 patients, 24503 (4.4%) were suspected of having acute ischemia and received an angiography after surgery. Other 14323 also required PCI.
---
Read also: EXCEL Outcomes: PCI vs CABG in Patients with Prior Cerebrovascular disease.
---
In the PCI group, mortality was two times higher than in patients with no signs of post CABG ischemia (5.1% vs. 2.7%; p<0.001). The problem was seen not only in increased mortality, but also in increased stroke (2.1% vs. 1.6%; p<0.001), increased acute kidney failure (16% vs. 12.3%; p<0.001) and infection complications.
It also increased hospital stay, and in turn increased costs by 50%.
Non-elective and off-pump surgery were predictors of post CABG PCI.
Conclusion
Immediate post CABG PCI is quite uncommon, but it significantly increased morbidity, mortality and costs. Further studies should focus on the way to reduce modifiable risk factors to prevent these events from happening.
Original title: Incidence, Predictors, and Outcomes of In-Hospital Percutaneous Coronary Intervention Following Coronary Artery Bypass Grafting.
Reference: Fahad Alqahtani et al. J Am Coll Cardiol 2019;73:415–23.
---
We are interested in your opinion. Please, leave your comments, thoughts, questions, etc., below. They will be most welcome.