Fractional Flow reserve (FFR) guided myocardial revascularization surgery (CABG) has similar graft failure rate and clinical outcomes as angiography guided CABG.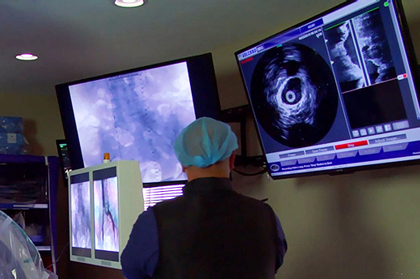 When planning PCI, the value of FFR for lesion assessment pose no questions, but we know little when it comes to CABG. Since the early start, back when Dr. Mason Sones performed catheterizations and Dr. Rene Favaloro performed CABG procedures, surgeons have planned strategy based on angiographic assessment.
This randomized study assessed graft patency and clinical outcomes after FFR guided CABG vs. angiography guided CABG.
---
Read also: Outcomes of MAIN-COMPARE: A 10-Year Follow-Up for a Historical Rivalry.
---
A total 100 patients referred to surgery were randomized to angiography vs FFR guided CABG.
In the FFR group, coronary lesions with FFR > 0.8 were deferred and a new strategy was planned to connect the grafts, while in the angiography guided group surgeons were blind to FFR values.
Primary end point was graft failure percentage in relation to the total number of grafts at 6 months.
---
Read also: Lotus Returns with New Strength and the FDA Approval to Compete with Sapien3 and CoreValve Evolut R.
---
Angiographic follow up was reached in 72 patients (39 vs 33 in the FFR group and angiography respectively).
Graft failure rate was similar in both groups (16% vs 12%; p=0.97). Graft rates for deaths, infarction and stroke resulted similar and there were no differences at long term.
After 6 months, differed lesions (n=24) showed a significant reduction of mean value compared to baselines (0.89 ± 0.05 vs. 0.81 ± 0.11; p=0.002). Baseline FFR did not affect graft patency.
Conclusion
As in the beginning, angiographies continue to be the adequate method when it comes to planning CABG. FFR did not predict graft patency and invasive follow-up at 6 moths showed a significant drop of this value compared to the baseline values of deferred lesions.
Original title: Fractional Flow Reserve Versus Angiographically-Guided Coronary Artery Bypass Grafting.
Reference: Anne Langhoff Thuesen et al. J Am Coll Cardiol 2018;72:2732–43.
---
We are interested in your opinion. Please, leave your comments, thoughts, questions, etc., below. They will be most welcome.