According to this sub-study of the FRANCE TAVI registry, mortality is similar for transcatheter aortic valve replacement in hybrid operating rooms vs. conventional catheterization labs. These findings support performing TAVR in conventional cath labs, which goes hand in hand with TAVR expansion, with improved logistics and organization costs.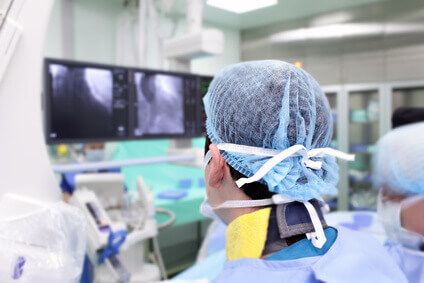 This study compared outcomes of patients undergoing TAVR in conventional cath labs vs. TAVR in hybrid ORs. The latter sounds ideal should complications arise, but hybrid ORs are scarce, costly and they involve a complicated logistic that might not be worth the while. A hybrid operating room does not make much sense without a cardiovascular surgeon in hand, and surgeons always have assistants, surgical technologists, attendings, etc., hence the complicated logistic, which in turn entails higher costs.
Indeed, for TAVR, as opposed to PCI, there should be heart surgery backup.
---
Read also: Promising Results for Tricuspid Repair.
---
All TAVR procedures done in 48 centers in France between January 2013 and December 2015 were retrospectively included in the France TAVI registry (French Transcatheter Aortic Valve Implantation). Primary end point was all cause mortality at one year. 30-day and 3-year mortality were considered secondary end points.
A total 12121 patients were included in the study, 62% received the procedure in conventional cath labs and 38% in Hybrid ORs. Baseline characteristics were similar between the groups.
Both groups showed a similar complications rate, below 2%. After multiple adjustments, major bleeding and infections were higher in the hybrid OR group (bleeding 6.3% vs. 4.8%; infections 6.1% vs. 3.5%; p<0.05), surprisingly, since we would expect exactly the opposite as regards infections.
---
Read also: Angiography Guided CABG Still Adequate.
---
Adjusted mortality at 1 and 3 years did not result different between the groups (cath lab 16.2% vs. hybrid OR 15.8% at 1 year, p=0.91 and 38.4%; vs 36.4%, p=0.49 at 3 years, respectively).
Conclusion
Mortality at 1 and 3 years is similar between patients undergoing TAVR in a conventional cath lab vs. a hybrid OR.
Título original: Transcatheter Aortic Valve Replacement in the Catheterization Laboratory Versus Hybrid Operating Room. Insights from the FRANCE TAVI Registry.
---
We are interested in your opinion. Please, leave your comments, thoughts, questions, etc., below. They will be most welcome.