Dapagliflozin (a sodium glucose co-transporter 2 [SGLT2] inhibitor), when indicated concomitantly with standard therapy, reduces significantly the risk of worsening heart failure events and cardiovascular events, and improves symptoms in patients with heart failure and reduced ejection fraction according to this new work presented during last Sunday's scientific sessions at the European Society of Cardiology (ESC) Congress 2019.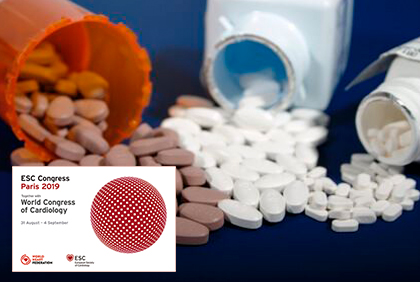 The relative and absolute risk reductions in death and hospitalizations were consistent for all patient subgroups, which included patients both with and without diabetes.
These results are superior to any achievement regarding heart failure patients over the last 20 years. There were a 26% reduction in the composite endpoint, a 30% reduction on worsening of heart failure, and a 18% reduction in both cardiovascular and all-cause death. This entailed an improvement in quality of life.
---
Read also: ESC 2019 | CONDI-2ERIC-PPCI: Final Blow Against Ischemic Pre-Conditioning in Primary Angioplasty.
---
These results will probably mark the beginning of a new day for the treatment of heart failure.
DAPA-HF enrolled 4744 patients with heart failure and reduced ejection fraction in 20 countries, and randomized them to 10 mg/day dapagliflozin vs. placebo (both of which also included the best proven medical treatment). Less than half of these patients were diagnosed with diabetes (the original indication for SGLT2 inhibitors).
The primary endpoint (a composite of worsening heart failure or death from cardiovascular causes) occurred in 16.3% of patients who received dapagliflozin and in 21.2% of those who received a placebo (hazard failure [HR]: 0.74; 95% confidence interval [CI]: 0.65-0.85). In an analysis of separate components, the difference was still significant.
Figures were nearly identical between patients with and without diabetes, and patients taking and not taking sacubitril/valsartan.
Original Title: Dapagliflozin in patients with heart failure and reduced ejection fraction (DAPA-HF).
Reference: McMurray J. Presentado el 1 de septiembre en el ESC 2019. Paris, Francia.
---
We are interested in your opinion. Please, leave your comments, thoughts, questions, etc., below. They will be most welcome.