The 5-year follow up of patients with chronic stable angina (or as the guidelines currently call it "chronic coronary syndrome") indicate the risk of cardiovascular death or non-fatal MI is quite low, but risk factor control is still fairly poor. This information comes from the CLARIFY study, presented at ESC 2019 and published simultaneously in Eur Heart J.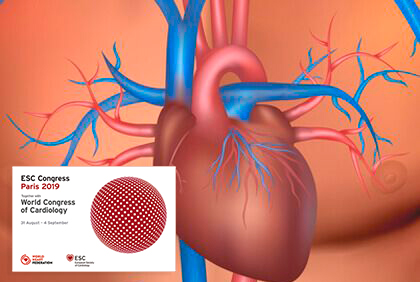 In the general population of symptomatic patients, no association was found between angina and events, but the presence of new symptoms in patients with a history of MI significantly increased the risk of a second MI or cardiovascular death.
It seems obvious to conclude that patients with a history of MI are at higher risk, but what this study brings to the table is that even when all test outcomes result normal (ECG, SPECT, etc.) these are still high-risk patients.
The CLARIFY is aligned with the new guidelines and alerts us about the risk these patients present, saying they are not as stable as they seem.
---
Read also: ESC 2019 | Pure: Body Mass Index Shows Low Correlation with Cardiovascular Events.
---
This study enrolled 32703 patients from 45 countries with coronary artery disease considered "stable", with symptomatic myocardial ischemia or angiographic stenosis >50%. The protocol allowed the inclusion of patients with prior MI or revascularization, as long as the event had taken place over three months earlier.
More than 95% of the population was on some antiplatelet antiaggregant, more than 80% were on statins, beta-blockers and inhibitors of the conversion enzyme/angiotensin blockers.
This seems a delicate treatment of guideline-oriented goals. However, risk factor management was poor.
Only 65% reached the conventional target of 140/90 mmHg blood pressure, only 61% reached <100 mg/dl LDL and only 42% managed to control both factors simultaneously.
---
Read also: ESC 2019 | HOPE 4: Overcoming Obstacles to Treat Risk Factors in Developing Countries.
---
If we use the threshold values recommended by the guidelines, it all gets slightly worse, seeing as just 7.4% of the population reach these targets.
After 5 years, 8% of the population presented the primary end point (cardiovascular death or non-fatal MI), that is 1.7 events rate per 100 persons/year.
Original title: Long-term outcomes of chronic coronary syndrome worldwide: insights from the international CLARIFY registry.
Reference: Sorbets E et al. Eur Heart J. 2019; Epub ahead of print.
---
We are interested in your opinion. Please, leave your comments, thoughts, questions, etc., below. They will be most welcome.