Courtesy of Dr. Carlos Fava.
In modern studies, carotid artery stenting (CAS) has been shown equal to surgery in terms of the composite end point of periprocedural stroke, death, acute myocardial infarction and late ipsilateral stroke. This was tested in different groups and by trained operators.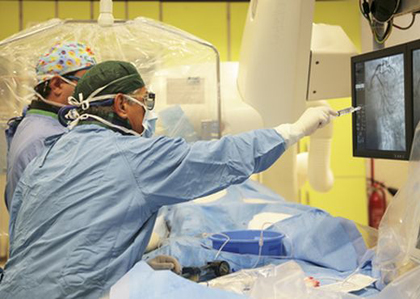 In the CREST-2 Registry (C2R) 2141 patients were included, 2219 CAS procedures were done by 187 operators in 98 centers across the US.
Mean age was 67.8 years, 65.3% were men who presented high prevalence of risk factors and 55.1% were asymptomatic. Obstruction was 84% and length was 21 mm.
45.5% of procedures were done by interventional cardiologists, 23.5% by vascular surgeons, 13.4% by interventional radiologists / neuroradiologists, 12.3% neurosurgeons and 5.3% by interventional neurologists.
---
Read also: New Device for More Protection in Carotid Artery Stenting.
---
All procedures were done with FDA approved stents and protection systems; 94.1% was done with local anesthesia.
At 30 days, global stroke and death rate was 2%, 1.4% for the asymptomatic and 2,8% for the symptomatic.
Conclusion
C2R is the first carotid PCI registry co-sponsored by the Federal Government and the industry. Carotid stenting procedures were carried out by experienced operators with an appropriate selection of patients and an optimal technique. In this environment, with this group of interventional specialists, there was a very low rate of periprocedural stroke and death in patients both symptomatic and asymptomatic.
Courtesy of Dr. Carlos Fava.
Original Title: Quality Assurance for Carotid Stenting in the CREST-2 Registry.
Reference: Brajesh K. Lal. J Am Coll Cardiol 2019;74:3071–9.
---
We are interested in your opinion. Please, leave your comments, thoughts, questions, etc., below. They will be most welcome.