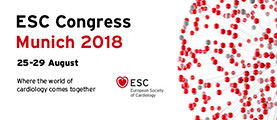 ESC 2018
Here you will find the highlights of the ESC 2018, held on August 25-29 in the city of Múnich, Gemany.
ESC 2018 | MITRA FR: Testing MitraClip for Secondary Mitral Regurgitation
Courtesy of Dr. Carlos Fava. In secondary mitral regurgitation, mitral-valve leaflets and chordae are structurally normal and mitral regurgitation results from alterations in left ...
ESC 2018 | FRANCE-TAVI: Atrial Fibrillation and Anticoagulation Associated to Mortality in TAVR
Some of the many ongoing randomized studies including patients with atrial fibrillation (AF) might finally answer the question on the best antithrombotic scheme post TAVR. According to this ...
ESC 2018 | ART: Disappointment with Bilateral Internal-Thoracic Artery Grafts After a 10-Year Follow-Up
Published 5-year results had been neutral for bilateral vs. single internal-thoracic artery grafts, but, at the time, surgeons argued that the time period analyzed was not enough and that a ...
ESC 2018 | GLOBAL LEADERS: Ticagrelor Monotherapy Is Not Superior to Classic Therapies After Angioplasty
Dropping aspirin after the first month and continuing with ticagrelor monotherapy was not better than standard dual antiplatelet therapy (aspirin plus ticagrelor or clopidogrel) in patients who ...