While the endovascular repair of aortic aneurysms has steadily become the number one option for aneurysms in which necks are adequate and which meet the specifications of device manufacturers. New technologies have arisen. These advancements allowed the expansion of this indication to more complex anatomies, such as those involving a short neck, no neck, or visceral branches.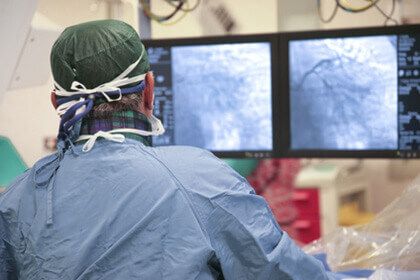 Various studies have shown the feasibility of these procedures. However, such feasibility is conditioned by the need for multiple materials such as guidewires, coated stents, and customized prostheses, which might affect negatively the cost/benefit ratio in comparison with surgery.
---
Read also: Leading Manufacturer of Balloon-Expandable Valves Launches Self-Expanding Device.
---
The aim of this study was to assess the cost-effectiveness of fenestrated or branched endoprostheses compared with surgery in complex thoraco-abdominal or abdominal aortic aneurysms.
The study analyzed all-cause mortality along with readmissions and hospital costs for para/juxtarenal aneurysms and supra-diaphragmatic aneurysms, separately.
This trial enrolled a total of 268 high-risk patients treated by endoprosthesis and 1678 intermediate- or low-risk patients treated with surgery during the same period.
---
Read also: Surgical or Percutaneous Management of Mitral Leak.
---
Mortality was similar among groups (14.9% vs. 11.8%; p = 0.150) and multivariate Cox regression analyses did not find an association between 2-year mortality and treatment received.
Similar proportions of patients were readmitted at least once (69.7% with endoprostheses vs. 64.2% with surgery; p = 0.096), but patients who received endoprostheses were readmitted more frequently (2.2 vs. 1.7; p = 0.001).
---
Read also: Coronary Disease Works as a 30-Day Predictor in TAVR.
---
This study was carried out in France; in consequence, costs were informed in euros. The costs for the endovascular treatment doubled those for surgery (EUR 46,039 vs. EUR 22,779, p < 0.001).
At two years, the endovascular treatment was more expensive and less effective, except for patients with supra-diaphragmatic aneurysms.
Conclusion
The endovascular treatment of complex aneurysms in high-risk patients offered rates of mortality similar to those for surgery in similar anatomies. However, in intermediate- or low-risk patients, endovascular treatment meant twice the money. Such cost was mainly driven by the cost of the multiple stent grafts required for the procedures. Carrying out the same study among patients with similar risk levels might serve to prove whether, for example, these higher costs are driven by the higher number of readmissions.
Original title: A Study of the Cost-Effectiveness of Fenestrated/Branched EVAR Compared with Open Surgery for Patients with Complex Aortic Aneurysms at 2 Years.
Reference: Morgane Michel et al. Eur J Vasc Endovasc Surg. 2018. Article in press.
---
We are interested in your opinion. Please, leave your comments, thoughts, questions, etc., below. They will be most welcome.