Courtesy of Dr. Carlos Fava.
It has been shown that significant tricuspid regurgitation (TR) is an independent predictor of bad evolution in the presence of  mitral valve disease. Its prevalence is not low, reaching up to 50% in patients undergoing surgery for mitral regurgitation (MR).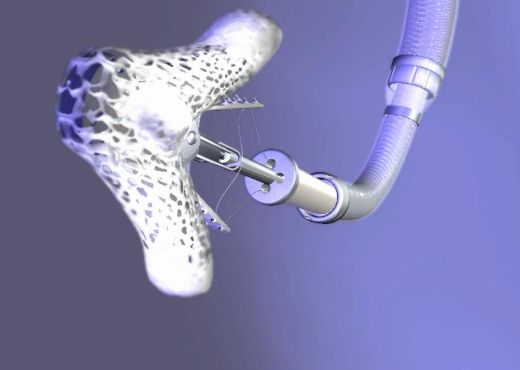 This study included 61 patients with significant TR and MR. 27 received combined transcatheter mitral plus tricuspid valve edge-to-edge repair (TMTVR) and 34 received transcatheter mitral valve edge-to-edge repair (TMVR) alone.
There were no differences between the groups. Mean age was 80 and all patients were in functional class III-IV. Ejection fraction was 44% in patients undergoing TMTVR and 35% in patients undergoing MTVR (p=0.41). Atrial fibrillation was 89%. EuroSCORE II was 8.6% and STS mortality predictor for mitral repair was 4.7%.
---
Read also: Tricuspid Regurgitation: MitraClip Improves Survival.
---
41 clips were implanted in mitral position (48% received only 1 clip and 52% received 2 clips) and 44 clips in tricuspid position (52% received 1 clip, 37% 2 clips, and 11% received 3 clips). There was significant reduction of effective regurgitant orifice area in both valves.
On MRI, the group that had both valves treated showed improved effective right and left ventricular stroke volume and increased cardiac index.
At 30 day follow up, patients undergoing TMTVR presented better functional class, lower NT-proBNP levels, better and 6-min walking distance as compared with TMVR patients.
---
Read also: Cardiovascular Events During World Cup Soccer, an Old Article Worth Remembering.
---
At 18 month of follow-up, these patients also presented fewer hospitalizations for heart failure, though rates of death were comparable between both groups.
Conclusion
TMTVR seems superior to MTVR in patients presenting significant mitral and tricuspid regurgitation, with improved right and left ventricular stroke volume and functional class in the early aftermath, and with clinical improvement after 18 months.
Commentary
This analysis shows that it is not only feasible but also safe to treat both valves percutaneously, and that it also has immediate short-term benefits, with improved clinical benefits after 18 months.
Note that it has a slow learning curve, since we should know well both the mitral and the tricuspid valves, which poses new challenges to echocardiographers and interventional cardiologists.
Courtesy of Dr. Carlos Fava.
Original title: Combined Mitral and Tricuspid Versus Isolated Mitral Valve transcatheter Edge-To-Edge Repair in Patients with Symptomatic Valve Regurgitation at High Surgical Risk.
Reference: Christian Besler, et al J Am Coll Cardiol Intv 2018;11:1142-51.
---
We are interested in your opinion. Please, leave your comments, thoughts, questions, etc., below. They will be most welcome.