Courtesy of Dr. Carlos Fava.
Tricuspid regurgitation (TR) has a negative impact in the long run. Several reports have shown that, in high risk inoperable patients, transcatheter edge-to-edge valve repair with MitraClip is feasible, safe and has good results, but there is still a long way to go.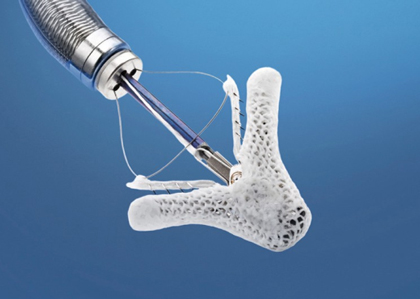 The present study looked at 24 consecutive patients with severe TR undergoing transcatheter edge-to-edge repair with MitraClip.
Primary end point was TR grade and functional class at 12 months, while Secondary end point was 6-minute walk distance, NT-pro-BNP level, quality of life (MLHFQ) and right ventricle echocardiographic parameters.
Mean age was 79, nearly all patients were functional class III-IV, STS mortality was 6%. In addition, 16 patients received MitraClip in the mitral valve in the same procedure. Left ventricle ejection fraction was 46±15% and right ventricle ejection fraction was 38±8%, TAPSE 16±4 mm.
---
Read also: MitraClip in Severe MR: 5 Year Mortality Rate Similar to Surgery.
---
Procedural success, defined as TR <2+, was achieved in 96% of cases.
At one year, 9 patients died: 4 because of final stage of cardiac failure, 2 for sepsis, 1 for AMI and 2 for unknown reasons. 2 patients required reintervention for severe TR, but none required surgery. All patients showed significantly improved functional class, 6 minute walk test outcome, NT-pro-BNP and quality of life. Right ventricular ejection fraction and TAPSE showed no improvement.
Conclusion
Preliminary clinical and echocardiographic results of this study are promising and encourage further study of the use of transcatheter edge-to-edge repair in inoperable patients with severe TR.
Courtesy of Dr. Carlos Fava.
Original title: One-year results of transcatheter treatment of severe tricuspid regurgitation using the edge-to-edge repair technique.
Reference: Daniel Braun, et al. EuroIntervention 2018;14:e413-e415
---
We are interested in your opinion. Please, leave your comments, thoughts, questions, etc., below. They will be most welcome.