We are seeing patients with similar clinical characteristics that shared the used of e-cigarettes. Even though we have been unable to identify one single responsible component or a set of them, clearly the use of e-cigarettes has brought new pathologies.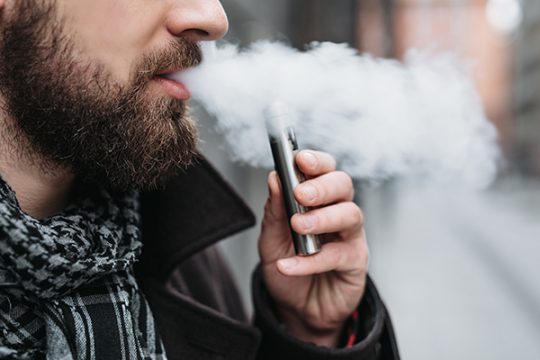 E-cigarettes are electronic battery powered devices that heat a liquid forming an inhalable aerosol. Several pulmonary diseases related to e-cigarettes have been reported as isolated cases, but never a series with a significant number of patients.
This study defined cases as people reporting the use of e-cigarettes 90 days prior symptom onset presenting pulmonary infiltration on imaging not attributed to other conditions.
---
Read also: E-Cigarettes vs. Nicotine Therapy to Stop Smoking.
---
53 were registered, mostly men, mean age 19. Mostly presented with respiratory symptoms (98%), gastrointestinal symptoms (81%) and constitutional symptoms (100%). They all presented bilateral pulmonary infiltrates.
94% of patients required hospitalization and one third mechanical ventilation. One patient died in hospital.
84% of patients reported having used tetrahydrocannabinol products in their devices, though there is a wide range of products and devices in the market.
---
---
Read also: E-Cigarettes: No Definitive Evidence on Their Potential Cardiovascular Effect, but Some Suggest Caution
---
Surveillance in one US state showed visits for severe pulmonary illness doubled between 2018 and 2019.
Conclusions
All patients used e-cigarettes and presented similar clinical characteristics, symptoms and imaging, not attributable to other conditions. Further study is required to characterize their physiopathology and identify the definitive cause.
Original Title: Pulmonary Illness Related to E-Cigarette Use in Illinois and Wisconsin — Preliminary Report.
Reference: Jennifer E. Layden et al. N Engl J Med. 2019 Sep 6. [Epub ahead of print].
---
We are interested in your opinion. Please, leave your comments, thoughts, questions, etc., below. They will be most welcome.