Courtesy of SBHCI.
This interesting study presented at TCT 2019 and simultaneously published in Am J Cardiol tells us PCI in stable coronary artery disease cannot lower risk in patients with severe aortic stenosis undergoing transcatheter aortic valve replacement (TAVR).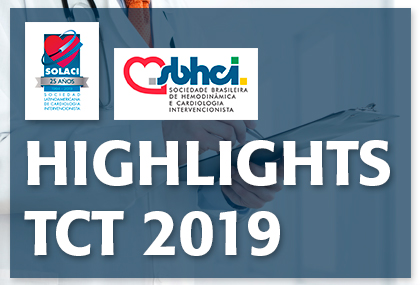 Unless patients are symptomatic, most coronary artery lesions do not need revascularization according to researchers. The problem is that in many occasions coronary and valve disease symptoms overlap. 
This new meta-analysis shows revascularization together with TAVR does not reduce the risk of death, stroke or MI at 30 days and one year when compared against patients undergoing TAVR with no revascularization. 
In the first days of TAVR, there was strong emphasis on treating significant lesions at least in proximal segments but new data suggest it would not be necessary to treat these lesions unless the patients presents ischemia symptoms. 
---
Read also: TCT 2019 | TCT 2019 | IVUS-XPL: 5-Year Follow-up for Angiography-vs. IVUS-Guided Angioplasty.
---
Unless the patient presents angina, ventricular dysfunction with an ischemic component or there is concern about the possible future access of coronary arteries after valve implantation, coronary artery lesions can be left untouched. 
Revascularization indication in patients undergoing TAVR should not be different than indications for patients with chronic ischemic cardiomyopathy. 
We should only be more conservative with a high-risk elderly patient presenting dyspnea alone, one with heart disease and super calcified ring; this patient will benefit from TAVR, and we could later assess whether we need to treat the coronary arteries. 
This meta-analysis included 11 studies with a total 5188 patients. In 5 studies, the coronary arteries were treated before TAVR, and in 1 they were treated simultaneously. Other 5 cases had a mix, following operators' criteria. 
---
---
Read also: TCT 2019 | TCT 2019 | FORZA: A Randomized Trial of Fractional Flow Reserve vs Optical Coherence Tomography to Guide Revascularization of Intermediate Coronary Stenoses.
---
10 of these 11 studies showed no differences in risk of all cause death at 30 days between patients undergoing PCI and TAVR vs. TAVR alone. When looking at cases with >70% stenosis, there are still no differences in mortality. Something similar happened with MI, stroke and kidney failure. 
When TAVR moves onto younger patients with lower risk, coronary access once the valve has been implanted might become a problem, since longer survival is expected and therefore further progress of heart disease. 
Courtesy of SBHCI.
Original title: Meta-analysis comparing outcomes in patients undergoing transcatheter aortic valve implantation with versus without percutaneous coronary intervention.
Presenter: Lateef N.
---
We are interested in your opinion. Please, leave your comments, thoughts, questions, etc., below. They will be most welcome.