Patients with severe aortic stenosis undergoing transcatheter aortic valve replacement (TAVR) can safely undergo the procedure under conscious sedation.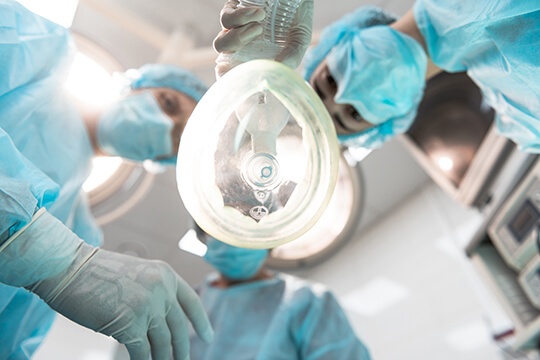 Conscious sedation has been adopted in clinical practice as a natural way of simplifying and conducting the procedure in the least invasive way possible.
Currently, up to 50% of patients undergo TAVR under conscious sedation, but so far there was no randomized evidence on the matter.
SOLVE-TAVI was a multicenter, open-label, 2×2 factorial, randomized trial of 447 patients with aortic stenosis undergoing TAVR, comparing conscious sedation vs. general anesthesia.
The primary efficacy endpoint was a composite powered for equivalence between both strategies for anesthesia. The composite endpoint at 30 days included: all-cause mortality, stroke, infarction, infection requiring antibiotic treatment, and acute kidney injury.
---
Read also: FFR and iFR Discordance in up to 20% of Cases: Which One Should Inform Our Decisions?
---
The primary endpoint occurred in 27.2% of patients in the conscious sedation arm vs. 26.4% of patients in the general anesthesia arm (p for equivalence = 0.015).
The rates of individual components also reached significance for equivalence. All-cause mortality was 3.2% for conscious sedation vs. 2.3% for general anesthesia; as regards stroke, 2.4% vs. 2.8%; infarction, 0.5% vs. 0%; infection requiring antibiotic treatment, 21.1% vs. 22%, and acute kidney injury, 9% vs. 9.2%, respectively.
There was a lower need for inotropes or vasopressors in patients who received conscious sedation (62.8% vs. 97.3%).
Conclusion
Conscious sedation had similar results in patients with severe aortic stenosis undergoing transfemoral TAVR compared with general anesthesia. These findings suggest that conscious sedation may be used safely during the procedure.
Original Title: General versus Local Anesthesia with Conscious Sedation in Transcatheter Aortic Valve Implantation: The Randomized SOLVE-TAVI Trial.
Reference: Holger Thiele et al. Circulation. 2020 Oct 13;142(15):1437-1447. doi: 10.1161/CIRCULATIONAHA.120.046451.
---