Using only one compressed tablet or pill with a fixed combination of statins, angiotensin-converting enzyme inhibitors, beta-blockers, and diuretics significantly lowered cardiovascular risk in a large population without previous events (primary prevention). However, it presented an intermediate risk of cardiovascular disease onset.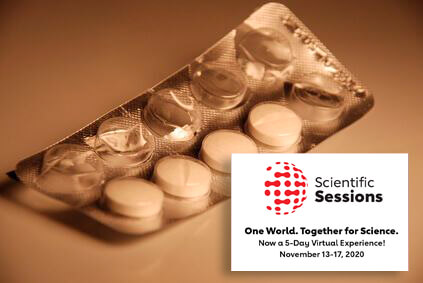 The TIPS-3 (The International Polycap Study 3) study had a 2-by-2-by-2 factorial design, and was partly presented at the American Heart Association (AHA) 2020 Congress.
Adding 75 mg of aspirin to the poypill diminished the relative risk of the study's primary endpoint (a composite of death, infarction, stroke, sudden death, heart failure, or revascularization) by 31% compared to a double placebo. In absolute terms, this reduction is equal to 1.7%.
The polypill (without aspirin added) showed a borderline statistically significant benefit compared with a placebo. After 5 years of follow-up, the primary endpoint was reached in 4.4% of the polypill arm vs. 5.5% of the placebo arm (hazard ratio: 0.79; 95% confidence interval: 0.63-1.00).
The polypill included 40 mg of simvastatin, 100 mg of atenolol, 10 mg of ramipril, and 25 mg of hydrochlorothiazide.
---
Read also: The Most Read Scientific Articles in Interventional Cardiology.
---
Not all physicians were sold on this idea. Many considered the simvastatin dose as excessive, given its possible subsequent pharmacological interactions. The same consideration was applied, even more, to the 100 mg of atenolol in patients with no-known heart disease.
Original Title: Polypill with or without aspirin in persons without cardiovascular disease.
Reference: Yusuf S et al. Presentado en el congreso AHA 2020 y publicado simultánemante en N Engl J Med 2020.
---
(Visited 1 times, 1 visits today)