Patients at high risk of bleeding undergoing coronary angioplasty with Orsiro stent can be considered for a short dual antiplatelet scheme.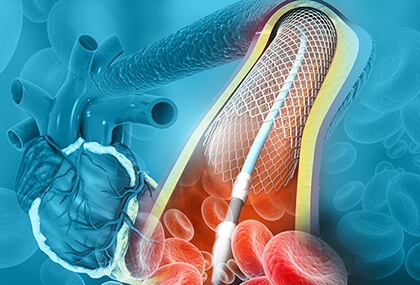 These data come from the SMART-CHOICE study recently published in JAHA, adding the Orsiro stent to the list of devices supporting 3-month DAPT.
This study included 2993 patients undergoing coronary angioplasty randomized to 3 moth DAPT followed by P2Y12 inhibitor monotherapy vs 12-month DAPT.
The original protocol prespecified an analysis of Orsiro patients. In addition, a post hoc analysis compared the Orsiro against the everolimus DES.
Of the 972 patients receiving the Orsiro, 481 were randomized to a short scheme and 491 to a 12-month DAPT.
---
Read also: Pleiotropic Effect of Metoprolol: Different From other B-blockers.
---
After a year, target vessel failure rate (composite of cardiac death, vessel related MI and target vessel revascularization) occurred in 1.7% of patients in the short scheme group vs. 2.9% pf patients in the 12-month group (HR, 0.58; CI 95%, 0.24 to 1.39; p=0.22).
In the general population receiving 3-month DAPT (n=1495) there were no differences in primary end point between patients receiving the Orsiro vs those receiving the everolimus DES (1.7% versus 1.8%; HR, 0.96; 95% CI, 0.41-2.22; P=0.92).
The Leaders Free study (NEJM 2015) pioneered the efficacy and safety of the polymer-free Biofreedom in a population at high risk of bleeding with a short scheme of just one month DAPT.
---
Read also: N95 and Surgical Face Mask Sterilization Is Feasible.
---
Only recently have we found some alternatives to the Biofreedom to treat these patients. It might be just a question of time for us to adopt a short DAPT scheme for all contemporary stents.
Conclusion
In patients receiving the Orsiro stent, clinical events at one year are similar between patients receiving 3-month DAPT followed by monotherapy with a P2Y12 inhibitor vs 12- month DAPT. In the group with the short scheme, events rate resulted practically identical between the Orsiro and the everolimus DES groups.
Original Title: Safety of 3-Month Dual Antiplatelet Therapy After Implantation of Ultrathin Sirolimus- Eluting Stents With Biodegradable Polymer (Orsiro): Results From the SMART-CHOICE Trial.
Reference: Kyeong Ho Yun et al. J Am Heart Assoc. 2021;10:e018366. DOI: 10.1161/JAHA.120.018366.
---