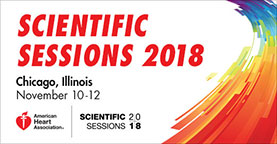 AHA 2018
Here you will find the highlights of the AHA 2018, held on November 10-12 in the city of Chicago, USA.
AHA 2018 | Endocarditis Prophylaxis More Limited after AHA 2007 Guidelines
The incidence of infective endocarditis had decreased after AHA 2007 recommendations. At present, some patients are not receiving antibiotic prophylaxis as they should. After AHA ...
AHA 2018 | New-Generation DES Are Similar to Second-Generation DES Beyond Polymer
Sirolimus-eluting stents with biodegradable polymer did not offer better outcomes compared with instant-classic (and undoubtedly valid) everolimus-eluting stents with durable polymer such as ...
AHA 2018 | PIONEER-HF: Sacubitril/Valsartan in Acute Decompensated Heart Failure
Treating acute decompensated heart failure patients with an angiotensin receptor inhibitor plus a neprilysin receptor inhibitor significantly reduces N-terminal pro-B-type natriuretic peptide ...