Courtesy of Dr. Carlos Fava.
The development of new valves for TAVR and the increased experienced of operators have significantly decreased paravalvular leak. However, new bundle Branch block (BBB) and the need for permanent pacemaker (PPM) are still relatively high, and their impact and evolution remain controversial.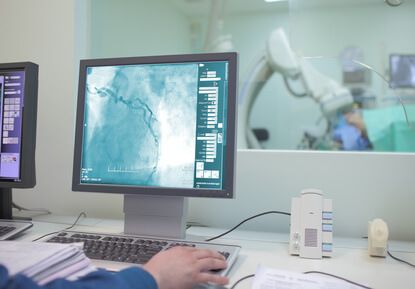 The study looked at 816 patients, 437 with no conduction disturbances and 247 with BBB, 132 requiring PPM.
Mean age was 81, STS was 3.2%, and there were no differences between the groups.
At 30 days, there were no differences in mortality.
---
Read also: TAVR Is Feasible and Offers Good Outcomes in Patients with Cancer.
---
At 5 years, mortality was higher in the BBB group, followed by the PPM group, compared against patients with no conduction disturbances (48.4% vs. 46.7% vs. 328%, p=0,003). These differences started to show after one year.
Rehospitalization for heart failure was higher in patients presenting BBB and PPM, with no differences in hospitalization days between the 3 groups.
---
Read also: Percutaneous Closure Systems Are Safe in TAVR and Aneurysms.
---
There was a significant reduction in left ventricular ejection fraction in BBB and PPM patients, compared against patients with no conduction disturbances.
Conclusion
The development of BBB and the need for PPM is frequent after TAVR and they are associated to higher mortality risk and higher hospitalization rate due to heart failure.
Gentileza del Dr. Carlos Fava.
Original title: Mortality and Heart Failure Hospitalization in Patients With Conduction Abnormalities After Transcatheter Aortic Valve Replacement.
Reference: Troels H. Jørgensen, et al. (J Am Coll Cardiol Intv 2019;12:52–61.
---
We are interested in your opinion. Please, leave your comments, thoughts, questions, etc., below. They will be most welcome.