Aspirin is against the ropes: first, it was primary prevention; now, its use is being reconsidered even in relation to angioplasty. There might be paradigm changes as regards antiplatelet therapy after angioplasty.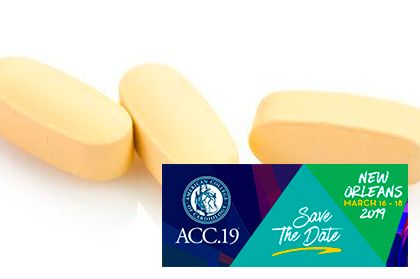 These two studies presented at the American College of Cardiology (ACC) 2019 Scientific Session can really change what we have been doing unquestioningly for years in terms of when to stop dual antiplatelet therapy and when to stop aspirin.
Both the STOPDAPT-2 and SMART-CHOICE trials demonstrate that second-generation stents are extremely safe.
The STOPDAPT-2 trial enrolled 3045 patients who received angioplasty with a cobalt-chromium everolimus-eluting stent (Xience) at 90 Japanese sites. All patients received dual antiplatelet therapy for only a month (clopidogrel or prasugrel plus aspirin), and then they were randomized to continue on either clopidogrel monotherapy or dual antiplatelet therapy (clopidogrel and aspirin) for one year.
---
Read also: ACC 2019 | SMART-CHOICE: Aspirin Increasingly "Against the Ropes".
---
In 97% (!) of cases, patients underwent intravascular ultrasound (IVUS) or optical coherence tomography (OCT) to guide and optimize angioplasty.
Clopidogrel monotherapy was superior to 12 months of dual antiplatelet therapy with regard to the endpoint of net adverse events (a composite of cardiovascular death, infarction, definite stent thrombosis, stroke, or TIMI major/minor bleeding; 2.4% vs. 3.7%; p = 0.04).
The secondary endpoint of TIMI major/minor bleeding also favored monotherapy (0.04% vs. 1.5%; p = 0.004).
---
Read also: ACC 2019 | TAVR in Bicuspids is Safe and Feasible in Real World Patients.
---
Furthermore, clopidogrel monotherapy was noninferior in terms of ischemic events.
At 1 year, outcomes were similar, with very low definite and probable stent thrombosis rates.
The subgroup analysis showed similar results, with the exception of patients with chronic kidney disease, who derived more benefit from 12 months of dual antiplatelet therapy.
---
Read also: ACC 2019 | PARTNER 3: Low Risk TAVR vs. Surgery, Fewer Events per Year.
---
It should be noted that intravascular imaging was used in almost 100% of cases (which is the standard in Japan), and that may mean that these results cannot be generalized, particularly if we only use angiography for guidance.
Original title: One-Month Dual Antiplatelet Therapy Followed by Clopidogrel Monotherapy Versus Standard 12-Month Dual Antiplatelet Therapy with Clopidogrel After Drug-Eluting Stent Implantation: STOPDAPT-2 Trial. P2Y12 Inhibitor Monotherapy Versus Dual Antiplatelet Therapy in Patients Undergoing Percutaneous Coronary Intervention: The SMART-CHOICE Randomized, Open-Label, Noninferiority Trial.
Presenter: Watanabe H and Hahn J-Y.
---
We are interested in your opinion. Please, leave your comments, thoughts, questions, etc., below. They will be most welcome.