This work (presented during the same American College of Cardiology [ACC] 2019 Scientific Session as the STOPDAPT-2 trial) enrolled 2993 patients who underwent angioplasty with current-generation stents Xience, Promus, Synergy, or Orsiro at 33 Korean sites. Patients were randomized to 12 months of dual antiplatelet therapy or dropping aspirin at 3 months.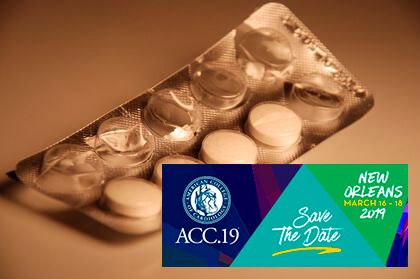 There was no difference between the short- and long-term dual antiplatelet therapy regime regarding the primary combined endpoint (death, infarction, stroke), with rates of 2.9% vs 2.5%. This information was confirmed in an exploratory analysis at 90 days.
Clinical events at 1 year were similar between study groups, with the exception of higher rates of BARC 2-5 bleeding observed in the group receiving aspirin for 12 months (2.0% vs 3.4%; hazard ratio [HR]: 0.36; 95% confidence interval [CI]: 0.36-0.92; p = 0.02).
All prespecified subgroups seemed to consistently derive benefit, although patients who received prasugrel or ticagrelor (as opposed to clopidogrel) tended to do better.
---
Read also: ACC 2019 | TAVR in Bicuspids is Safe and Feasible in Real World Patients.
---
This work suggests that P2Y12 inhibitor monotherapy after short conventional dual antiplatelet therapy is a new strategy that seems to balance well ischemic and bleeding risks in patients undergoing angioplasty.
One of the limitations of this study was that 16% of patients randomized to dropping aspirin at 3 months actually continued taking it.
---
Read also: ACC 2019 | PARTNER 3: Low Risk TAVR vs. Surgery, Fewer Events per Year.
---
An important detail is that about half the study population (and the STOPDAPT-2 population) underwent a simple angioplasty; in consequence, these results cannot be generalized.
Original title: P2Y12 Inhibitor Monotherapy Versus Dual Antiplatelet Therapy in Patients Undergoing Percutaneous Coronary Intervention: The SMART-CHOICE Randomized, Open-Label, Noninferiority Trial.
Presenter: Hahn J-Y.
---
We are interested in your opinion. Please, leave your comments, thoughts, questions, etc., below. They will be most welcome.