In patients undergoing transcatheter aortic valve replacement (TAVR) that also required anticoagulation for another indication (mostly atrial fibrillation), the incidence of major bleeding between month 1 and 12 was lower in those receiving only anticoagulation instead of anticoagulation + clopidogrel.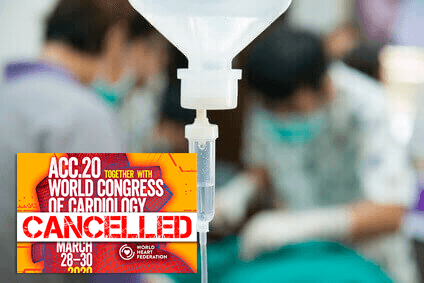 The present study presented as part of the scientific sessions at the virtual ACC 2020, simultaneously published in NEJM included TAVR patients with prior anticoagulation adequately indicated. Patients were randomized 1:1 to no clopidogrel (only anticoagulation) vs clopidogrel and anticoagulation for 3 months.
Primary end points were all bleedings not related to the procedure at 12 months. Secondary end points were a combination of cardiovascular death, bleeding not related to the procedure, stroke and MI.
Bleeding events occurred in 21.7% (34 of 157) of those receiving only anticoagulation vs 34.6% (54 of 156) of those receiving anticoagulation plus clopidogrel (RR 0.63; IC 95% 0.43 to 0.90; p=0.01). Most bleeding events were at the access site.
---
Read also: Virtual ACC 2020 | Controversial Trial ISCHEMIA Finally in NEJM.
---
Bleeding events not related to the procedure occurred in 21.7% vs 34%, respectively (RR 0.64; CI 95% 0.44 to 0.92; p=0.02). Most bleeding events occurred in the first month and were minor.
Conclusion
In TAVR patients with prior anticoagulation indication a strategy with no antiplatelet antiaggregation (clopidogrel) and only anticoagulation resulted safer.
Original Title: Anticoagulation with or without Clopidogrel after Transcatheter Aortic-Valve Implantation.
Reference: V.J. Nijenhuis et al. NEJM 2020, article in press.
---
We are interested in your opinion. Please, leave your comments, thoughts, questions, etc., below. They will be most welcome.
(Visited 3 times, 3 visits today)